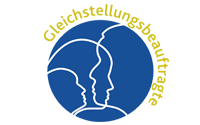 Servicezeiten
Gleichstellungsbeauftragte /
Sekretariat:
Mo bis Fr: 9:00 - 12:00 Uhr
und nach Vereinbarung
---
Studentische Gleichstellungsbeauftragte
(Kathrin Wagner):
Mi 11:00 - 13:00
und nach Vereinbarung

Equal opportunities officer and committees
The equal opportunity officers and their representatives' task is working on the realization of gender equality, eliminating existing disadvantages for women and improving the compatibility of career and family for men and women.
The office employees support these activities and are available to help and give information in different fields.
The equal opportunities commission has to advice and support equal opportunities officers, central institutions, committees, office holders and officials. Its members' task is working towards the enforcement of gender equality in every university department and eliminating existing disadvantages for women as well as preventing future discriminations against women.
The faculty and university gender equality officers work together on the implementation of gender mainstreaming in every university department. They represent all the relative interests at committees and commissions and give advice in order to realize the gender equality.