Media Studies
Short information
Restricted
admission
Regular
study time
Winter
semester
Summer
semester
no
6 semester
✔
Advanced
major
Major
combination
Major
Minor
✔
✔
✔
✔
Admission procedure
No admission required, no application required
Graduation
Bachelor of Arts
More information
Deadlines
The degree program
The degree program enables students to get to know a broad range of the subject of media studies – close to research and price. In addition to the subject-aligned training that specifically bundles media knowledge of the different disciplines from a media-comprehensive perspective, students receive an application-oriented training that points out perspectives for the future job during the studies already. The B.A. media studies does not teach specific competences in individual media, but interface competences.
We can refer to many years of close contacts in different media areas in corporation with practical application of media. Renowned representatives of renowned media companies, such as the WDR and FAZ, have worked dedicatedly in practical media lessons for many years.p>
We are characterised by many years of experience and offer transparent structures, very good support and contact with our former students, who work in renowned media companies.
Study structure
The subject bachelor's degree program at the School of Arts and Humanities allows students to combine various major and minor subjects with each other. The following subject combination programs are available: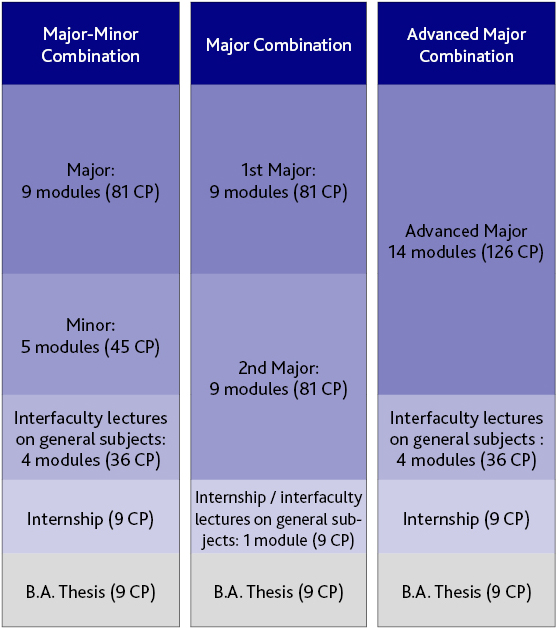 In the major-minor combination, Media Studies can be combined with the following minor subjects:
In the subject-oriented subject combination program, combination with the following majors is possible:
Important information
An eight-week pre-study internship must be proven in the extended core subject and in the core subject before the start of studies, at the latest by 30 September. This internship can be in one of the central media areas press, radio, film, advertising, public relations or cultural work.
More Information.
Professional perspectives
The broad and well-founded education prepares students to the diverse requirements and continually changing task areas in the media landscape. The skills acquired in the studies enable students to comprehend the complex structures of the media industry and to specifically use them in the areas of planning, organization, development, coordination, analysis and consulting within media companies or media-oriented operating units.
Study organization
Examination regulations/degree plan/module manuals/internship rules

Examination regulations (POs) specify the basic structures of a degree program (e.g. admission requirements and contents to be studied). Students are automatically subject to the current version of their PO when they matriculate for their first subject-related semester. This means that even if the PO changes during their studies, the original version according to which they matriculated will remain valid (provided that the PO does not expire).
The respective degree plan is the recommended example progress of the studies in individual subjects and is part of a PO.
Supplementary provisions and details for any module to be studied can be found in the module manually (e.g. requirements for taking a written test or content-related information on the modules/events, ...).
The internship rules define the conditions under which the required or optional internships must be completed.

We recommend at least looking at the study schedule for your degree program before the lecture time starts, to ensure that you know which modules are intended for the start of your studies.
Master's degree program