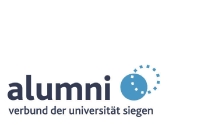 Gesichter und Stimmen zum Mentoring
"Siegen in tandem": The career mentoring programme
The Career Mentoring Program "Siegen in Tandem" is offered to all students, graduates and alumni of the University of Siegen.
Experienced alumni (mentors) are the driving force behind a tandem together with a student or graduate (mentee). In a one-to-one relationship, the mentor's experience guides the mentee by assisting them with professional orientation between finishing their studies and starting their career. Last but not least, both tandem partners have the opportunity to acquire valuable soft skills and to further develop themselves through a mutual exchange of technical and professional information.

Integrated within the programme is an international focus which determines the matching of mentor and mentee in accordance with special criteria promoting international exchanges. If requested, special gender aspects can also be taken into account with regard to career planning.

Tandems are assigned to one another during assignment periods, which occur twice per year. The assignment of each tandem partner is carried out by the project coordinators on the basis of the work and study profiles of each applicant.
Our mentoring program is currently being restructured.
In this context, we are also adapting the methods for applying as a mentee and registering as a mentor. Matching currently does not take place in certain periods each semester, but instead on a continuous basis.

If you are interested in applying for or registering yourself with the programme, please contact us during the transition phase by writing an email to: alumniverbund@uni-siegen.de
We will then coordinate a personalised matching for you.
Opportunities & goals
Mentoring is a personal, mutual learning process. Mutual respect and goodwill are the basis for openness and trust. Commitment and consistency should be a matter of course and lead the tandem to success.
The procedure
Preparatory phase
Questionaires are used to determine the career profile, educational background, and expectations of mentors and mentees, for preparation of the tandem matching.

Matching and arranging contacts, initial interviews, starting the tandems
Mentors and mentees ate brought together in tandem in accordance with their ideas. After being matched and introduced to one another for the first time by the project coordinators, both mentor and mentee shall jointly decide whether the proposed partnership should become a tandem. The mentor and mentee will jointly decide the objectives of their tandem.

Tandem design
The mentor and mentee determine the scope, duration and style of their tandem exchange in accordance with their own preferences.

Support from project coordination
We regularly offer our tandem participants the different opportunities for sharing ideas and insights, we are also available to provide assistance when necessary.
The design
The mentor supports the mentee by sharing their knowledge with them. This can be done in various ways, such as by advising them during their studies, assisting them in finding internships, offering tailored guidance on starting their career or offering the chance to visit their workplace. Advice and insights can also be shared during the writing of seminar papers or bachelor/master theses.

The way in which each mentor-mentee exchange takes place can be tailored to the respective background and expectations of each tandem partner.

Both mentor and mentee shape the mentoring process together!
Mentoring application period
Tandem partners are currently being continuously assigned.
In order to arrange a personal interview, students interested in being mentored should register with us at
padberg@alumni.uni-siegen.de
Inquiries from potential mentors should also be sent by email to the address above.