Research on the Wahl-O-Mat
NB: You can find now the newest Wahl-O-Mat website at the Heinrich Heine University of Düsseldorf

.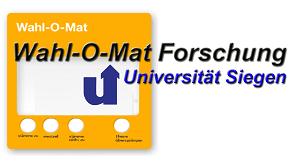 On this website you will find information on research on the Wahl-O-Mat

, its functioning and effects.
The Wahl-O-Mat, an online tool offered by the German Federal Agency for Civic Education, has become a successful web project increasing political participation and communication before elections on the European, the federal and the state level in Germany.
Since its first implementation with the German federal elections in 2002, the Wahl-O-Mat has become one of the most popular and famous online tools in Germany. Its initial success spurred new versions for the federal election 2005, the European Elections 2004 and 2009, and nearly every election on the sub-national level. The Wahl-O-Mat has been object of scientific research. In almost all Wahl-O-Mat versions, the users have been asked, why they use the Wahl-O-Mat and what affect using this tool might have. Apart from this, demographic data (age, education, level, etc.) have been collected. On this website we present to you the results of these surveys.
Before the German federal Elections of 2009 the Wahl-O-Mat was played over 6.7 million times.