Alumni Expert Seminar IFAT India
"Integrated Sience meets Economy – Water and Waste Water Management"
India
DAAD
2015

In the period from 09.10.-16.10.2015, the DAAD-funded expert seminar took place in close cooperation with the German Association for Water, Wastewater and Waste (DWA) at the Indian Institute of Technology Bombay (IITB) in Mumbai. 15 alumni from the South Asia region participated.
The expert seminar was organized by CICD of the University of Siegen in cooperation with the Ostwestfalen-Lippe University of Applied Sciences - Institute of Sanitary Engineering, Ravensburg-Weingarten University of Applied Sciences, the Indian Institute of Technology Bombay - Faculty of Civil Engineering, Mumbai, Bangalore University - Department of Civil Engineering and PDP University Gandhinagar - Department of Civil Engineering.
The main objective was to increase awareness of the sustainable use and management of water as a resource and to improve networking among local stakeholders. These included:
Sharing experiences and strategies in the region among alumni, participating institutions, and local stakeholders on water and energy management and food security.
Identifying existing contacts between educational institutions, government agencies and the corporate sector.
The development of concepts to improve national and international cooperation in the South Asian region.
Establish and expand connections through alumni between the private sector, government institutions, and universities.
During the three-day seminar at IIT in Mumbai, alumni and German faculty presented on wastewater, flood risk and groundwater management, as well as collaboration between industry, universities and public-private partnerships. This served as preparation for the following international trade fair, IFAT India. An excursion to the vicinity of Mumbai demonstrated current challenges of the city regarding the management of water in this megacity.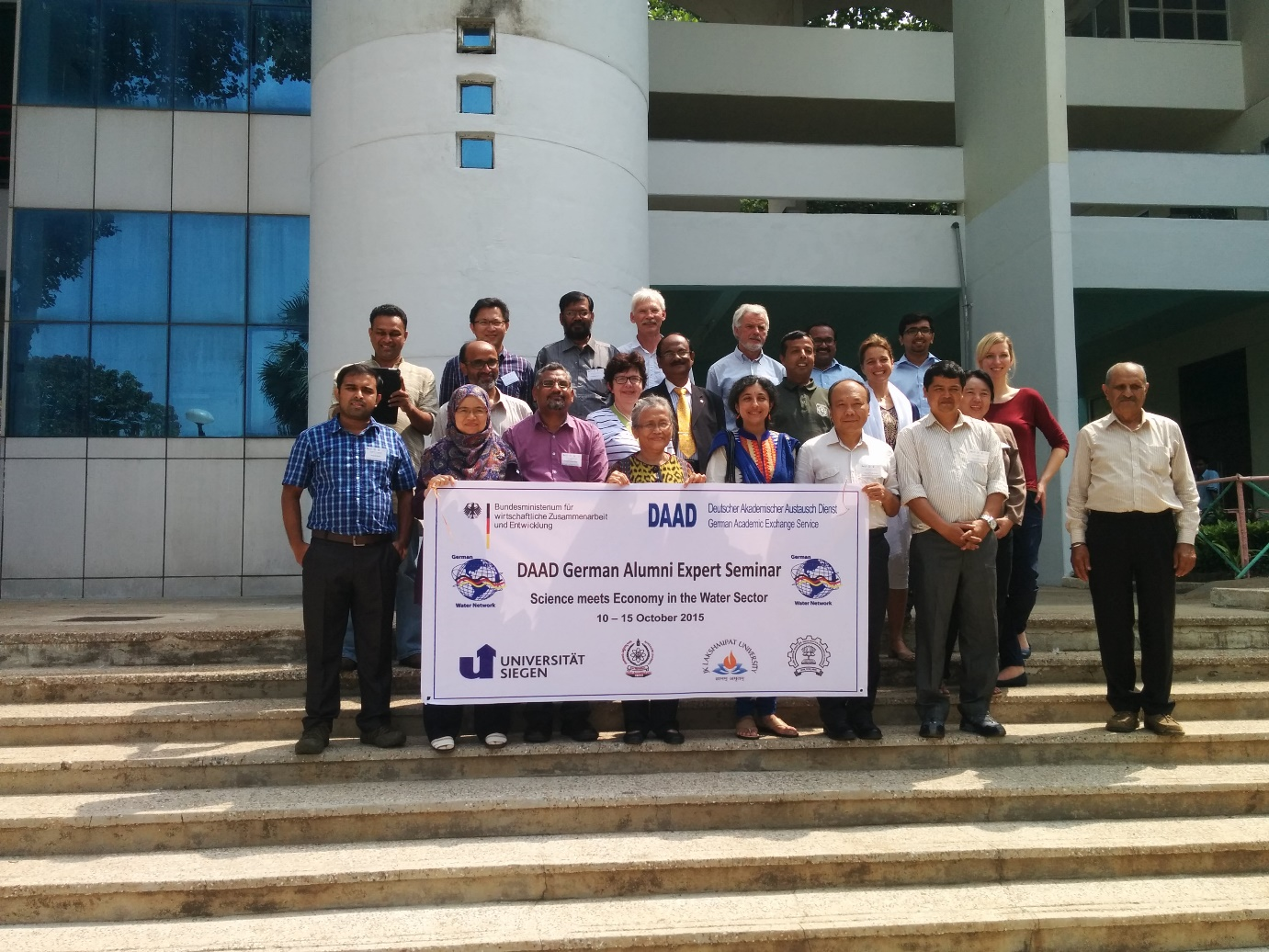 The seminar was followed by a three-day visit to the IFAT India trade fair, where the GAWN network and alumni activities related to water management were presented.
136 exhibitors took part in IFAT India 2015. Again, a very high percentage - 56 percent - came from outside India. The show featured country pavilions from Austria, China, Germany, the Netherlands and Switzerland. The attractiveness of IFAT India 2015 was confirmed by a visitor turnout of more than 4,300.