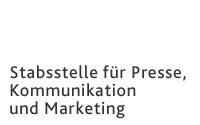 Contact
Executive Department for
Press, Communication and Marketing
Adolf-Reichwein-Straße 2a Gebäude AVZ (Gebäudeteil AR-NA) 57068 Siegen
Phone:&nbsp&nbsp&nbsp +49 (0)271/740-4915 Fax.:&nbsp&nbsp&nbsp +49 (0)271/740-4911 E-Mail:&nbsp
presse@uni-siegen.de
News and Press

Welcome to the Executive Department for Press, Communication and Marketing of University of Siegen.

We are pleased to provide an all-embracing view of the activities at University of Siegen. For detailed information about research, teaching, science and culture, deadlines and events, please consult our website, flyers and brochures. We provide regional, national and international media representatives with details of topical research results, exciting background stories, facts and figures around the university. We can also put you in contact with experts from different scientific areas. A range of publications are offered to complement our service.
In addition, we are responsible for marketing activities at University of Siegen and we organize central events.