Centre for International Capacity Development (CICD)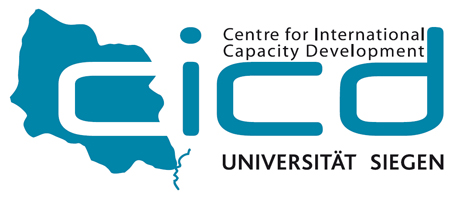 What does CICD stand for?
The Centre for International Capacity Development (CICD) was founded to concentrate already existing individual exploratory activities in various faculties and thus to strengthen the exploratory competence and the probability of receiving third party funds of the University of Siegen and to bestow a special focus on the work with developing countries (implementation of the international focuses East Africa, Southeast Asia and South America).
Thereby one should refine individual activities which complete one another and are fruitful for the mutual projects. Apart from including research, mutual projects should particularly contain joint seminars, summer schools and field work.
The unity of research and education is supposed to gain a new sort of quality in Siegen. The CICD refines already existing co-operations with partner institutes, particularly in developing countries to enable interdisciplinary and intercultural research.
The installation of adequate international research groups, as well as the organisation of mutual field work, workshops, symposia and summer schools serve as transfer of knowledge and technology.
Another focus is the organisation and support of international courses of study at the University of Siegen and also at partner universities.
All project work, international co-operations between universities and transfer of technology are covered through third party funds which are attracted by the CICD members.
For more information on CICD and its activities please contact info@cicd.uni-siegen.de .