.swapping and sharing information
Former students relate on their experiences. The alumni forum encourages communication between students and alumni. Professional as well as interdisciplinary and intercultural opportunities are with discussion forums, lectures and networking services at the forefront of this event.
The Alumni-Forum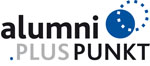 These activities of the Alumni-Forum are offered within the series of career:FORUM as alumni.PlusPunkt. The presentations are mainly in German language.





Activities of our Alumni during the current term
What happened in the past terms? Get an overview about the topics
Selected pictures and multimedia content of our activities