Contact

We would like to kindly point out that appointments for initial talks can only be made during consultation hours by phone. For reasons of Data Protection Act, we are not allowed to answer e-mails with requests for initial consultations or therapy content, so please refrain from doing so. For other requests (e.g. changes of appointment) the secretary's office is available by phone and email. 
Psychotherapeutic Ambulance of the University of Siegen
Weidenauer Straße 167a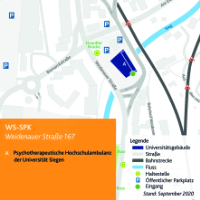 57076 Siegen
Tel.: +49 (0)271/740-5550
Fax.: +49 (0)271/740-15550
E-Mail: pha@uni-siegen.de
The Psychotherapeutic Ambulance of the University of Siegen is located on the 2nd floor of the building. An elevator is available. The building has three entrances. The entrance to the Psychotherapeutic Ambulance is on the left side of the building.
In the street "Am Eichenhang" parking spaces are reserved for patients of the Psychotherapeutic Ambulance.
Consultation by telephone
Registration and appointments for the initial interviews are only possible via telephone consultation. Please note that the appointments for the telephone consultation hours can be cancelled or postponed at short notice in individual cases of emergency. The current times for the telephone consultation hours can always be found on this webpage (see below):
on wednesdays
3 p.m.
to

4 p.m.
 
on thursdays

12

to

1 p.m.
 

  
Please note, that the high demand of psychological aid exceeds our current capacities during telephone consultation hours by a great extent. In order to be able to take even more calls in the future than it is possible currently, we will expand our capacity in near future. By now, please take into account waiting time. Due to data protection reasons we are not allowed to assign appointments by e-mail. We would therefore kindly ask you not to send us any e-mails in this regard, as we are not allowed to process them.
First appointments are exclusively assigned during the above hours of telephone consultation.