Contact
Contact 
Universität Siegen 
Fakultät IV 
Department Elektrotechnik und Informatik 
Lehrstuhl Regelungs- und Steuerungstechnik 
Hölderlinstr. 3 
57076 Siegen
Contact Person: Frau Birgit Hoffmann 
Room: H-F 007
Tel.: +49(0) 271 740-4438
Fax: +49(0) 271 740-4382
Directions
By Bus and Train:
Take the line C111, UX1, UX2, UX3, UX4, UX5 or UX6 in the direction of Universität / Haardter Berg. Get off at the stop "Hölderlinstraße".
By car:
Leave the motorway (B54 / B62) at 'Siegen-Weidenau' and continue in the direction of 'Netphen' . At the second traffic light, turn left into 'Am Eichenhang'. Approximately 300 m after the first traffic light at the intersection, turn right into Wilhelm von Humboldt-Platz. Before the next traffic light turn left into 'Walter-Gropius-Weg'. Follow this street to the end. The parking lot is clearly visible on the other side of the street. To get to the Hölderlin campus , walk back along 'Walter-Gropius-Weg' and cross the street at the traffic lights. Then follow the footpath towards the Hölderlin campus building.
Adress / Navigation system info: 
Hölderlinstr. 3 
57076 Siegen
Site plan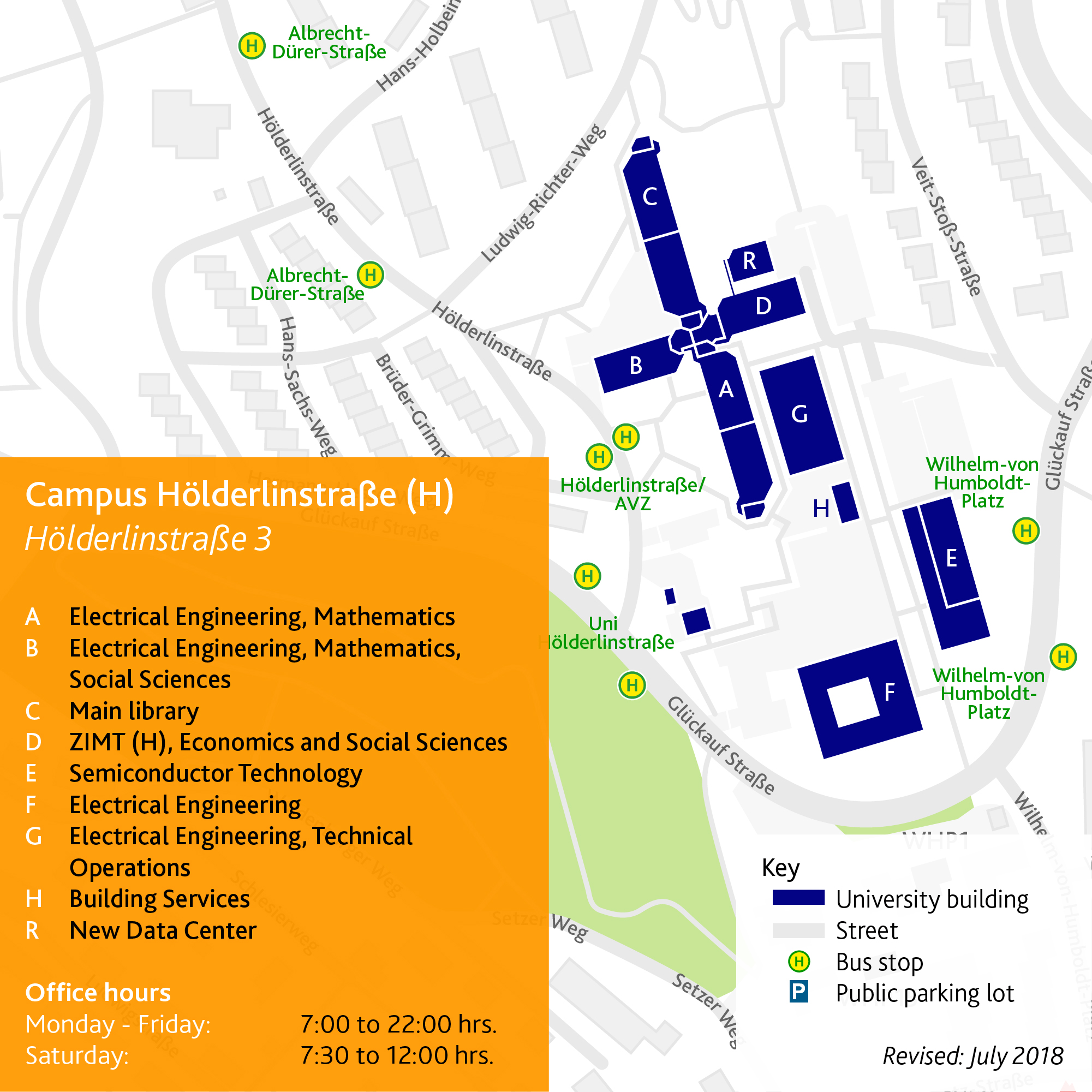 Click on the picture for an enlarged view.