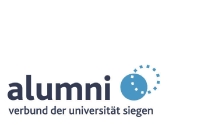 Alumni & networking
Networking has never been more important for personal and professional development. A carefully curated web of contacts can lay the foundations for productivity and success. The Alumni Network is the university-wide, international network of the University of Siegen in which former (alumni) and current students, teachers, researchers, professors and all other members of the university can stay in contact. In doing so, they build bridges between theoretical and practical knowledge. Become part of this international, lively and growing network of the University of Siegen!
Are you not yet a member of the network? Click here to create your "myAlumni" profile in the Alumni Portal!
You already created your profile in the Alumni-Portal? Click here to login directly to the Alumni Portal with your profile!
After graduating from the University of Siegen, our alumni go on to do a variety of different and interesting things. Our alumni share their stories and experiences in the Alumni Portraits. Also of interest are our Research Alumni, who function as important contacts for establishing and maintaining international research collaborations. Insights into their research can be found within our research alumni gallery. We also publish "Alumni in Conversation" in Querschnitt, the university newspaper. As Alumni Ambassadors they highlight their ongoing connection to the University of Siegen and inspire others to do the same. Be inspired by our alumni!
The University of Siegen connects with its alumni worldwide through the university-wide network. We strive to facilitate academic exchanges not only through faculty alumni groups, but also local and regional groups. Take the opportunity to connect with your alma mater from the University of Siegen in order to build regional, academic and global networks, enabling you to get in touch and to stay in touch with students and alumni all around the world.
Have you studied or done your doctorate at the University of Siegen? Have you worked or done some research there? Or maybe you are currently studying your Bachelors or Masters or teaching, researching or working at the University? Then become a part of the university-wide international network, benefit from our services and take the opportunity to actively shape the network. Register through the myAlumni portal and become part of our network!