.programme 'Forscher-Alumni' - Research Alumni Programme
shaping the future together - platform for international research and networking

The programme 'Forscher–Alumni' ('research alumni') was designed to serve international guest researchers of the University of Siegen as a platform for research and networking. We are continuing to extend the network with our research alumni so that we can provide special offers for them and to actively integrate them and their contributions into the scientific and alumni network of the University of Siegen. The programme 'Forscher–Alumni' is a cooperation between the Welcome Center, the International Service of the University Siegen and the Alumniverbund, the Alumni Network of the University Siegen.
We are looking for  'Forscher-Alumni'!
We would like to extend our research alumni network!
Are you an international alumnus/alumna of the University of Siegen and are currently working abroad in Science and Research?
Or you have spent a research period as an international scientist at our university?
Or are you currently spending your time as a guest scientist, PhD student or postdoc in a research role at the University of Siegen?
Then you are our 'Forscher-Alumni'!
This means that you are an important partner for our university research and education.
You are also important multipliers and partners for the young future scientists at our university. We would like to keep contact and foster a sustainable exchange of ideas with you.
Join the network here!
News

12 June 2018: International Guest Researcher Day!
Experience Internationalisation - The Research Alumni Programme will, in cooperation with the International Welcome Center, be hosting their very first International Guest Researcher Day on the 12th June 2018 at the University of Siegen. The focus of this event will be academic research and exchanges by international guest researchers and their local hosts from each faculty. A thematic seminar will take place with the theme of "International Scientific Communication - Trends and Challenges", which will be done with the participation of young scientists. This will be followed in the evening by the annual reception for the international guest researchers. Please find the programme here.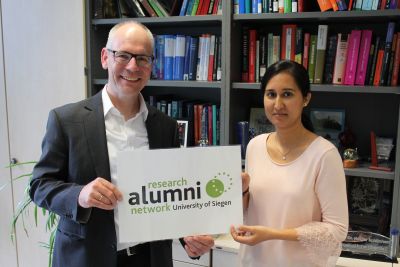 Aloe vera and seaweed: Mauritius based researcher brings local expertise to Siegen.
Dr. Nowsheen Goonoo is based at the Centre for Biomedical and Biomaterials Research (CBBR) at the University of Mauritius, a focus of her research is on medical applications of polymers derived from two natural materials found in and around Mauritius: seaweed and Aloe vera.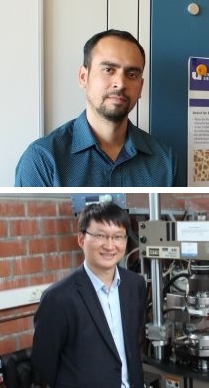 Prof. Teodolito Guillén Girón and Prof. Jian Xiong
The Chair of Materials Science and Testing, led by Prof. Christ, has brought visiting researchers from across the world to Siegen thanks to its strong international connections.
Many former researchers were recently invited back to Siegen for the chair's 25th anniversary. One of these guests was Prof. Teodolito Guillén Girón from the Costa Rican Institute of Technology. Prof Girón completed both his master's degree and his doctorate at the University of Siegen. His field of research is biomaterials and biomechanical analysis and tissue engineering.
Another important guest was Prof. Jian Xiong, from the Harbin Institute of Technology, China. Prof Xiong was previously in Siegen in 2015 as a Humboldt research fellow, his field of research includes Mechanics of Lightweight Composite Materials and their Structure.
Our Programme, your participation
Keep in touch, share your experience, return for research, on-side activities,...
Keep in touch, share your experience
We are focusing on direct exchange within the Research Alumni Network and providing first-hand information to this community. Due to this we are using different tools (newsletter, social media etc.) and communication channels on the local ("Stammtisch") and supraregional level.
"Return for Research Grants"
The goal of this measure is to involve former international researchers in the activities to strengthen our global academic network, to initiate further cooperation, and to support future academics at the University of Siegen. Applicants can be professors, private lecturers and academic consultants in their role as host/hostess of the Research Alumni from any department at the University of Siegen. Funding will be prioritised towards applications which ultimately propose sustainable research collaboration between the alumnus/alumna and the host/hostess from the University of Siegen. Thus, joint publications, external fundraising and other such objectives will be viewed favourably. The first application period has expired. The second application period is currently open to someone who is planning to visit from the 1st of April 2018 until the 31st of December 2018. You can download the call here: The Application Deadline is 12th of Feburay 2018.
Forscher-Alumni-Conference / On-site activities
Our mission is to support already existing or planned activities with Research Alumni contributions. Please feel free to request our assistance.
'Zukunftsblick'. The Forscher-Alumni-Academy / Encounters
We are able to offer appropriated training programmes for research alumni, scientists and young researchers by referring to services of the University of Siegen (for example Hochschuldidaktik). Through these programmes we can foster new forms of interaction and exchange.
Your contribution
as ambassador, as mentor,...
Ambassador programme
With the experience from your research visits at our university, you are an ideal candidate to draw the attention of interested young scientists and research collegues to the variety of possibilities for research and cooperation with scientists at the University of Siegen.
Mentoring programme
With your extensive expertise, you are sincerely invited to provide support and act as mentors to young scientists at our university (PhD-students), in order to advise them on questions related to international careers in science and research.