.research alumni programme

The Research Alumni Programme was designed to serve international guest researchers and researchers of the University of Siegen as a platform for research and networking. Collaboration, Exchange, Network: We are continuing to extend the network with our research alumni so that we can provide special offers for them and to actively integrate them and their contributions into the scientific and alumni network of the University of Siegen. The Research Alumni Programme is a cooperation between the Welcome Center, the International Office of the University Siegen and the Alumniverbund, the Alumni Network of the University Siegen.
New Services: Portal and Community
Get in touch: Keep in touch
The Research Alumni Programme establishes new connections between researchers and strengthens the current academic community. A mobile information portal as well as a specific myAlumni information community have been created.
| | | |
| --- | --- | --- |
| |   | |
| Before international guest researchers can begin their visit, they need to find a lot of different information about research in Germany, funding, accommodation, and about the research location and facilities of their prospective research partners. For this reason an Information Portal especially designed for international guest researchers at the University of Siegen is provided. ra.SiP brings together all the necessary information about research visits to the University of Siegen, which would be easily accessible through computers, tablets, and smartphones. |   | For Research Alumni, international guest researchers, and researchers of the University of Siegen, there are specialised features for scientific exchanges available at myAlumni, the contact network of the University of Siegen. Members of the platform are able to contribute their own ideas to shape the alumni network and they can enrol themselves in various groups. To organise an exclusive Research Alumni Information Community the members in the Research Alumni Group can share scientific documents and contact each other. |
| |   | |
News from the network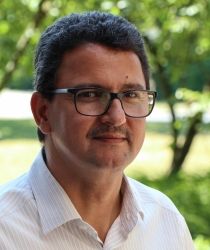 New portrait in the Research Alumni Gallery: Prof. Dr. Abdelhadi Soudi
Prof. Dr. Abdelhadi Soudi is a full professor in Morocco, at the Ecole Nationale Superieure des Mines. He is at Siegen University as an Alexander von Humboldt Foundation Research Fellow. His research is focused on natural language processing, a branch of Artificial Intelligence, that tries to create tools for processing human languages for diverse applications, such as Machine Translation, Question Answering and Information Retrieval systems, to name but a few. What there is tried to do is to get computers use human languages in the same way (or better than how) humans use them.  Read more.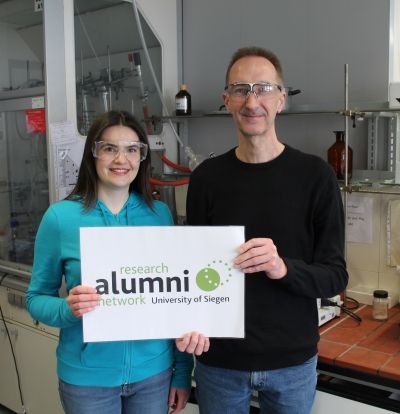 New Research Alumni Tandem: Nucleic acids and photochemistry: a bridge from Moscow to Siegen
Dr. Daria Berdnikova came to Siegen for the first time in 2011 as a visiting PhD student (DAAD fellow) to perform her research project on photocontrollable interactions with DNA in the group of Prof. Dr. Heiko Ihmels (Organic Chemistry II). After three fruitful months in Siegen, she went back to Moscow where she successfully defended her PhD thesis and received a position as a research associate at the Russian Academy of Sciences. Later, Dr. Berdnikova returned to the group of Prof. Dr. Ihmels several times for short stints as a postdoctoral researcher to work on joint projects of the University of Siegen and the Russian Academy of Sciences. Since October 2017, Dr. Berdnikova is an EU Marie Skłodowska-Curie fellow in the group of Prof. Dr. Ihmels. Her research is focused on the development of photocontrollable binders for therapeutically relevant RNA sequences.  Read more.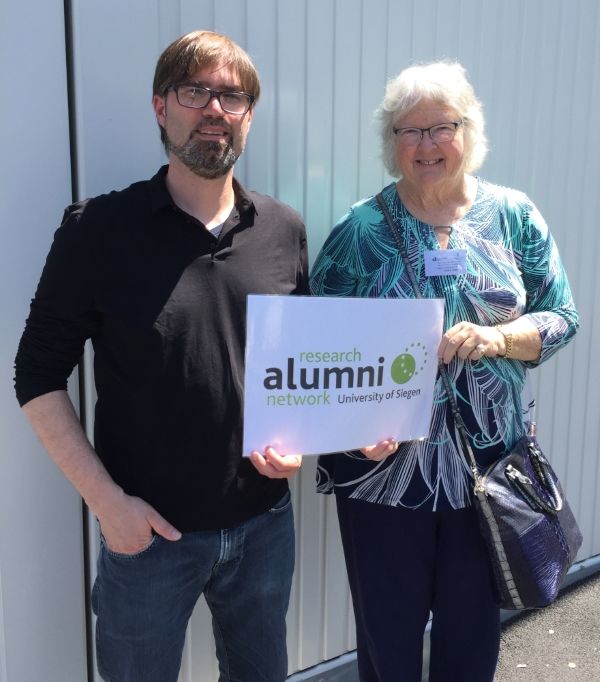 New Research Alumni Tandem: A Long-Standing Research Collaboration between Norfolk State University (USA) and the University of Siegen
When Prof. Dr. Page R. Laws, Professor of English and Dean of the R. C. Nusbaum Honors College at Norfolk State University, returned to the Adolf-Reichwein campus last summer, she did not travel alone. Invited by Prof. Dr. Daniel Stein, chair of North American Literary and Cultural Studies in the English Department at Siegen, for a conference on Migration and Immigration in Europe and the Americas, Prof. Laws brought five colleagues from Norfolk State, one of the three remaining historically black colleges and universities located in Virginia, to present papers and discuss current and past movements of people across borders. The group had already visited Graz, where they had participated in the "Ethnicity and Kinship: Interdisciplinary Approaches to Family, Community, and Difference" conference of the Society for Multi-Ethnic Studies: Europe and the Americas (MESEA), and they were eager to share their work with colleagues from Siegen.  Read more.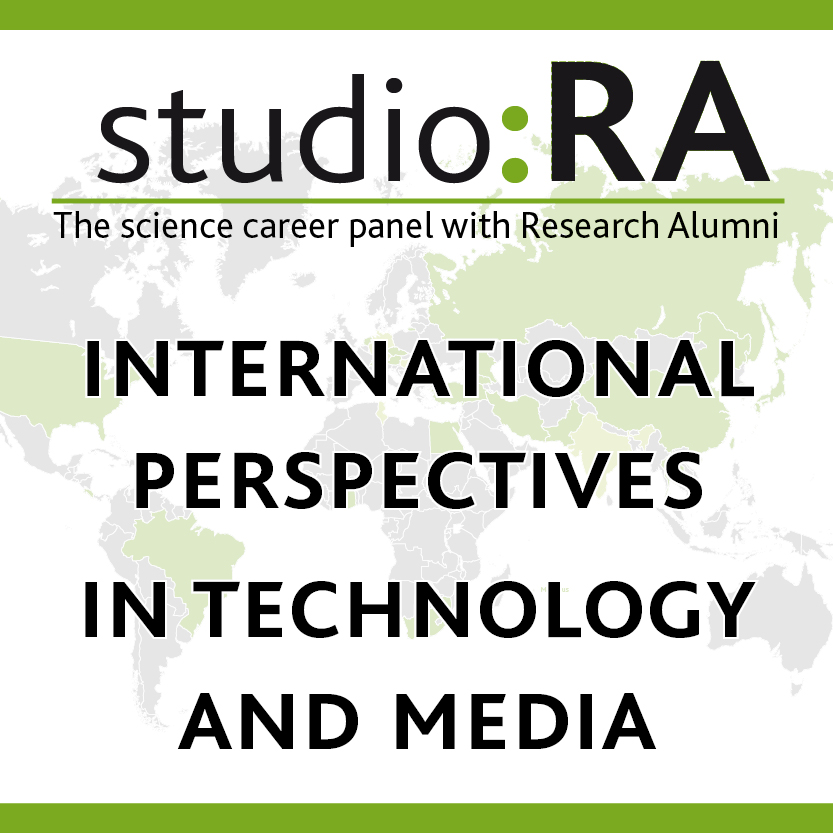 Wed. 03.07.19: studio:RA - The science career panel with Research Alumni
On the 3rd of July 2019, there will be for the very first time, a panel discussion - inspired by the studio:A–Format - with international guest scientists and Research Alumni. The topic will be: International perspectives in technology and media. Learn from experts - our Research alumni - how to advance your own career.This event is for master, PhD and postdoctoral students, aspiring researchers, and Alumni from all academic disciplines with an interest in conducting research abroad. Click here for more information
Our Programme, your participation
Keep in touch, share your experience, return for research, on-side activities,...
Keep in touch, share your experience
We are focusing on direct exchange within the Research Alumni Network and providing first-hand information to this community. Due to this we are using different tools (newsletter, social media etc.) and communication channels on the local ("Stammtisch") and supraregional level.
"Return for Research Grants"
The goal of this measure is to involve former international researchers in the activities to strengthen our global academic network, to initiate further cooperation, and to support future academics at the University of Siegen. Applicants can be professors, private lecturers and academic consultants in their role as host/hostess of the Research Alumni from any department at the University of Siegen. Funding will be prioritised towards applications which ultimately propose sustainable research collaboration between the alumnus/alumna and the host/hostess from the University of Siegen. Thus, joint publications, external fundraising and other such objectives will be viewed favourably. The first application period has expired. The second application period is currently open to someone who is planning to visit from the 1st of April 2018 until the 31st of December 2018. You can download the call here : The Application Deadline is 12th of Feburay 2018.
Forscher-Alumni-Conference / On-site activities
Our mission is to support already existing or planned activities with Research Alumni contributions. Please feel free to request our assistance.
'Zukunftsblick'. The Forscher-Alumni-Academy / Encounters
We are able to offer appropriated training programmes for research alumni, scientists and young researchers by referring to services of the University of Siegen (for example Hochschuldidaktik). Through these programmes we can foster new forms of interaction and exchange.
Your contribution
as ambassador, as mentor,...
Ambassador programme
With the experience from your research visits at our university, you are an ideal candidate to draw the attention of interested young scientists and research collegues to the variety of possibilities for research and cooperation with scientists at the University of Siegen.
Mentoring programme
With your extensive expertise, you are sincerely invited to provide support and act as mentors to young scientists at our university (PhD-students), in order to advise them on questions related to international careers in science and research.