.programme 'Forscher-Alumni' - Research Alumni Programme
shaping the future together - platform for international research and networking

The programme 'Forscher–Alumni' ('research alumni') was designed to serve international guest researchers of the University of Siegen as a platform for research and networking. We are continuing to extend the network with our research alumni so that we can provide special offers for them and to actively integrate them and their contributions into the scientific and alumni network of the University of Siegen. The programme 'Forscher–Alumni' is a cooperation between the Welcome Center, the International Service of the University Siegen and the Alumniverbund, the Alumni Network of the University Siegen.
We are looking for 'Forscher-Alumni'!
We would like to extend our research alumni network!
Are you an international alumnus/alumna of the University of Siegen and are currently working abroad in Science and Research?
Or you have spent a research period as an international scientist at our university?
Or are you currently spending your time as a guest scientist, PhD student or postdoc in a research role at the University of Siegen?
Then you are our 'Forscher-Alumni'!
This means that you are an important partner for our university research and education.
You are also important multipliers and partners for the young future scientists at our university. We would like to keep contact and foster a sustainable exchange of ideas with you.
Join the network here!
News

Viertes Austausch-Treffen zum Forscher-Alumni-Programm
Das vierte Austausch-Treffen zum Forscher-Alumni-Programm an Universitäten fand im September 2018 an der Universität Siegen am Campus Unteres Schloss statt. Dafür waren Forscher-Alumni-Beauftrage von verschiedenen deutschen Universitäten angereist. Im Fokus stand der Erfahrungsaustausch über erfolgreich umgesetzte Maßnahmen der jeweiligen Forscher-Alumni-Programme sowie Fragen zur nachhaltigen Bindung der Forscher-Alumni an die Universitäten und zur Verstetigung der Programme.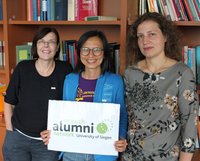 Meet Assoc. Prof. Korakoch Attaviriyanupap, expert in the field of German linguistics in Thailand
Prof. Korakoch Attaviriyanupap has now completed her eighth research stay with Prof. Petra M. Vogel, chair of German linguistics at the University of Siegen. Korakoch, who is an associate Professor at the German department at Silpakorn University in Thailand, is focused on contrastive differences between the Thai and the German languages. Korakoch has been working closely together with Petra on various projects since 2009.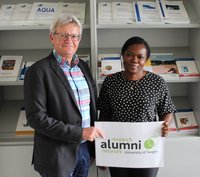 Dr. Efua Esaaba Agyire-Tettey returns to Siegen to promote social inclusivity for all.
Dr. Efua Esaaba Agyire-Tettey is a lecturer at the Department of Social Work, University of Ghana. She holds a University of Siegen. Efua came to Siegen, thanks to the International Education Doctorate (INEDD) which advertised for doctoral students to come to Siegen from abroad, and provided them with help adjusting to their new country. Since completing her PhD, she continues to work with her PhD supervisor, Prof. Johannes Schädler, who manages the Center of Planning and Evaluation of Social Services (ZPE) at the University of Siegen. Efua and Johannes work together on a joint project which looks at the role of social work to promote inclusivity for people with disabilities in the Suhum district in Ghana.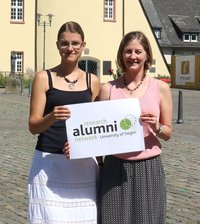 How do entrepreneurs make sense of success? Professors Ettl and Black work together to find out.
Prof. Laura Black has arrived in Siegen from the American state of Montana, to work with Prof. Kerstin Ettl on a paper which looks at sensemaking and success of entrepreneurs. Both academics have benefited from their cooperation and are looking forward to presenting the results of their research to the scientific community.
From Siegen to Shanghai and back again: Improving drug testing and cancer diagnosis through scientific exchanges.
Dr. Xiaoqiu Dou came to Siegen in 2016 as a Humboldt postdoctoral fellow. After 2 successful years she has returned from China to collaborate with other researchers in Prof. Schönherr's Physical Chemistry I research group. Her projects include a new method to improve the effectiveness of drug testing, and utilising natural structures found in rose petals to improve the diagnosis of cancer. Dr. Dou has enjoyed her time in Siegen very much and there will hopefully be a permanent joint research program between Siegen and Dr. Dou's home institution in Shanghai.

Forscher-Alumni-Galerie: Prof. Seyed Mohammadamin Emami, Prof. Page Laws and Prof. Andonaq Londo
Three more guest researchers recently visited the University of Siegen to collaborate with scientists in different faculties.
Prof. Seyed Mohammadamin Emami has been coming to Siegen for many years to collaborate with Prof. Trettin, who leads the Institute for Buildings and Materials Chemistry. Together they are analysing ceramic samples from the Middle East in order to discover more about societies during earlier time periods. He finds Siegen to be improved with each visit, and hopes to come back again soon.
Prof. Page Laws is based at the R. C. Nusbaum Honors College at Norfolk State University in Norfolk, Virginia as Professor of English and Dean. Her research is focused in European and African views of America, and much on modern and post-modern fiction, drama and film. She also works on cultural Studies, often with a transnational emphasis. Her Research cooperation partner at the University of Siegen is Prof. Daniel Stein, North American Literary and Cultural Studies.
Prof. Andonaq Londo based at the energy department of the Polytechnic University of Tirana – Albania. with his cooperation Partner at the University of Siegen, Prof. Dr. Thomas Carolus, Chair of Hydrokinetic Flow Machines Institute of Fluid- and Thermodynamics, he is focused on common research field of energy and energy Efficiency.

International Guest Researcher Day
For the first time, the "Day of International Visiting Scholars" took place at the University of Siegen on the 12th June, which the Research Alumni Program had organised in cooperation with the International Welcome Center and the University of Siegen's Alumni Association. The focus was on the exchange and research of international guest researchers and their Siegen hosts from all schools. The International Guest Researcher Day provided the setting for the third annual reception at the Welcome Center for international scientists and an appreciation of selected Siegen scientists for their commitment to international cooperation as well as their research collaborations with international scientists and a conference on science communication.
Our Programme, your participation
Keep in touch, share your experience, return for research, on-side activities,...
Keep in touch, share your experience
We are focusing on direct exchange within the Research Alumni Network and providing first-hand information to this community. Due to this we are using different tools (newsletter, social media etc.) and communication channels on the local ("Stammtisch") and supraregional level.
"Return for Research Grants"
The goal of this measure is to involve former international researchers in the activities to strengthen our global academic network, to initiate further cooperation, and to support future academics at the University of Siegen. Applicants can be professors, private lecturers and academic consultants in their role as host/hostess of the Research Alumni from any department at the University of Siegen. Funding will be prioritised towards applications which ultimately propose sustainable research collaboration between the alumnus/alumna and the host/hostess from the University of Siegen. Thus, joint publications, external fundraising and other such objectives will be viewed favourably. The first application period has expired. The second application period is currently open to someone who is planning to visit from the 1st of April 2018 until the 31st of December 2018. You can download the call here : The Application Deadline is 12th of Feburay 2018.
Forscher-Alumni-Conference / On-site activities
Our mission is to support already existing or planned activities with Research Alumni contributions. Please feel free to request our assistance.
'Zukunftsblick'. The Forscher-Alumni-Academy / Encounters
We are able to offer appropriated training programmes for research alumni, scientists and young researchers by referring to services of the University of Siegen (for example Hochschuldidaktik). Through these programmes we can foster new forms of interaction and exchange.
Your contribution
as ambassador, as mentor,...
Ambassador programme
With the experience from your research visits at our university, you are an ideal candidate to draw the attention of interested young scientists and research collegues to the variety of possibilities for research and cooperation with scientists at the University of Siegen.
Mentoring programme
With your extensive expertise, you are sincerely invited to provide support and act as mentors to young scientists at our university (PhD-students), in order to advise them on questions related to international careers in science and research.