Conference Report VW Summer School "Transnational Graphic Narratives" by José Alaniz
A "United Nations" of Comics Studies
A "United Nations" of Comics Studies: The Transnational Graphic Narratives Summer School
University of Siegen
July 31-August 5, 2017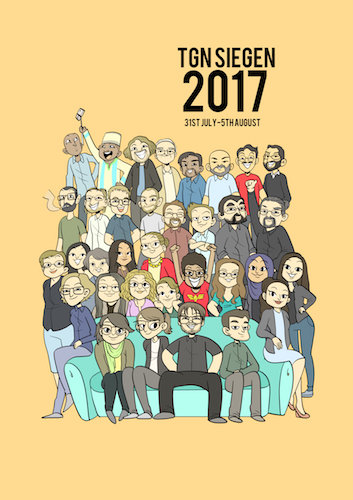 The future of Comics Studies, in all its splendor and multicultural reach, unfolded this summer at the first Transnational Graphic Narratives Summer School organized by Dr. Daniel Stein and Dr. Lukas Etter, both of the University of Siegen, Germany, on their campus. With very generous funding from the Volkswagen Foundation,[1] the organizers assembled a truly and extraordinarily diverse cohort of comics scholars spanning continents, fields and generations. These hailed from among other places India, South Africa, Argentina, France, Malaysia, Turkey, Nigeria, Mexico – a veritable Homer's Catalog of thinkers on the 9th art. How could it not but turn out among the greatest and most inspiring experiences of any academic career?
Most days in the jam-packed schedule included at least one Keynote, plenary roundtables and individual presentations from the 25 accepted participants. These were supplemented by a cartoonist's workshop led by French-Congolese cartoonist/author Fifi Mukuna; a day trip to the Department for Children's and Young Adult Literature Research (Institut für Jugendbuchforschung) at Frankfurt's Goethe University[2]; and of course, meals punctuated by discussions, debates, suggestions, feedback and networking of all sorts – which may or may not have involved copious flagons of good German beer.
Keynotes included Casey Brienza (City University London) on "Domesticating Manga? Japanese Comics and Transnational Publishing"; Stephan Packard (University of Cologne) with  "Imagining Other Audiences: Popular Ideologies of Fiction in Transnationally Published Comics"; Michael A. Chaney (Dartmouth College) presenting "Para-caption and March Covers, or (Mis)Reading with the President"; and Astrid Böger (University of Hamburg) addressing "Transnational Graphics Narratives from Down Under: An Overview." In addition, John Lent, comics scholarship pioneer and founder of the International Journal of Comic Art, answered wide-ranging queries on the field's unfinished business via Skype.
The Summer School also arranged two roundtables: on comics studies in Germany, comprised of Astrid Böger, Christina Meyer (University of Hannover, Germany), Joachim Trinkwitz (University of Bonn, Germany) and Stephan Packard; and on transnational comics studies, made up of Casey Brienza, Michael Chaney, Sarah Lightman (University of Glasgow), Suraya Md Nasir (Kyoto Seika University, Japan), Pfunzo Sidogi (Tshwane University, South Africa) and myself.
Participant presentations, along a spectrum from fascinating to riveting to jaw-dropping, varied in topic from South African superheroes to cartooning in Malaysia to the exhibition of Jewish women's comics to the legal status of yaoi manga in the UK to the representation of Muslims and the transnational space of the banlieu in BD to reinscriptions of US/European comics in Argentina. The scholarship's astonishing geographical and methodological diversity was matched only by its uniformly high quality. The hours flew.
Some recurring themes emerged over the course of the week, chief among them the critical need for further transnational research into comics to complement (or supersede?) more nation-based studies[3]; the question of demonstrating to our institutions the value of a field marked by its interdisciplinarity[4]; English as a lingua franca and its effect on comics studies' growth; and the possibilities for cooperation between such (inter-)national organizations as ICAF and the CSS in North America, Comics Forum and International Bande Dessinée Society in the UK and Germany's ComFor, to name only a few. 
Drs. Stein and Etter and their staff have every reason to congratulate themselves on what they accomplished: a sort of United Nations of Comics Studies. I can say without exaggeration they have done the field a vital service, creating the conditions for a mapping out of the direction where comics scholarship can and should go – and that direction is cross-border, cross-linguistic, global.
Discussions continue to percolate of making the TGN Summer School an ongoing bi-annual concern in some form, to further promote the scholarship, meetings, and collaborations already fostered. Inshallah. I myself came away from the Summer School with not one but two new collaborative projects, which I cannot wait to dig into with colleagues from literally every continent but Antarctica.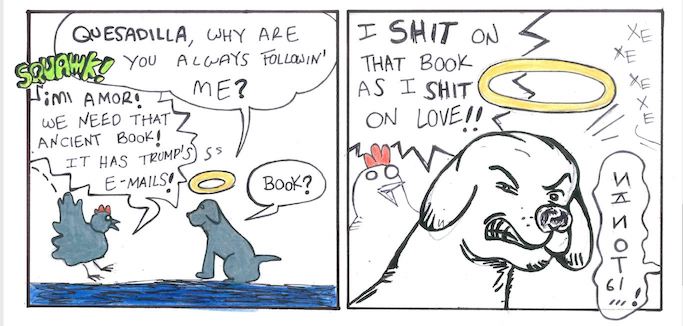 As an exhausted but exhilarated Dr. Stein told me at TGN's conclusion: "We wanted to bring the world of comics scholarship to Siegen." In this they very much succeeded.
- J. Alaniz
---
[1] Some of us from across the pond joked that Volkswagen was trying to make up for its recent emissions test violations in the US.
[2] The trip also afforded participants the chance to take in "Mapping Dreams: The Art of Marc-Antoine Mathieu" at the Museum of Applied Art and other relevant exhibits. 
[3] For example, in my own presentation, "National Precarity in Ukrainian/Armenian Comics," I argued that to profitably study the graphic narrative traditions of these countries – both former Soviet republics still subject to Moscow's sphere of influence – demands a transnational approach.
[4] The discussion of which was much advanced by Jared Gardner of OSU, who had been scheduled to attend as a keynote but had to cancel. He chimed in with his thoughts via an e-mail to the group.