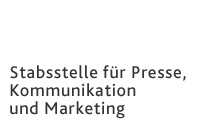 Contact
Executive Department for
Press, Communication and Marketing
Adolf-Reichwein-Straße 2a Gebäude AVZ (Gebäudeteil AR-NA) 57068 Siegen
Phone:&nbsp&nbsp&nbsp +49 (0)271/740-4915 Fax.:&nbsp&nbsp&nbsp +49 (0)271/740-4911 E-Mail:&nbsp&nbsppresse@uni-siegen.de
Tips for the Internship
The compulsory internship for your study is due and you do not yet know how to find a suitable position? Anna Maria Weber from the Internship Office of Faculty I of the University of Siegen gives tips for students of the humanities.
How do I proceed when I search for an internship position, if I do not know what I want to do professionally?
Anna Maria Weber: "The most important question anyone should ask himself is: Which profession would I still enjoy after a few years? For each course of study, we list the specific fields; which are the possible occupational areas that one can work in. Depending on the course of studies, this can be a lot of things from lecturers to editors to film producers. It is best to cover areas that you can not imagine, and highlight fields of work which you could imagine for your future. Otherwise you will only get bogged down. In order to effectively find companies and institutions, for example, the homepage of the local phone book or the Yellow Pages help. There you can search specifically for industries. One can quickly find out whether certain employers fall into the range of possibilities, at all, both geographically and from the perspective of the vocational field. In order to clarify whether vacancies exist or which areas of work you can actually try out during the internship, you may call the company directly - but not if their website provides a designated career portal with appropriate online application requirements. This increases the chance to find an internship place in a feasible way, which actually fits into one's own interests and abilities, and reduces unnecessary, tedious waiting time, such as in the case of unsolicited applications."
What are my chances with big corporations with dazzling names? Or should I prefer to try regional, medium-sized companies?
Anna Maria Weber: "If it has been your goal for a long time to do an internship in a well-known company, like e.g., BMW or the F.A.Z., you should of course apply and try it in any case. But I like to give the tip to apply simultaneously with small and medium-sized enterprises. There, the chances are usually better, and you get a place faster. Frequently, the work is even more versatile, because you can peak into many different, study-affine areas. Moreover, I would like to point out that many large corporations already require practical experience; some even a completed Bachelor's degree. Internships for large companies are offered for at least three, usually even six months, which is incompatible with university regulations for the compulsory internship. At the beginning of your studies, you therefore have rather small chances. Frequently, you have to apply online with larger companies via a career portal; you have no personal contact and often only receive an automated confirmation of receipt. I consider that rather  grueling. Even if companies have dazzling names that would make a difference in your CV, the opportunity to get an internship place is very small. It would be more likely to obtain an internship position with a larger company through personal connections, which should not be neglected."
I have found a great internship place, but I learn that I will not earn a cent. Should I accept the internship anyway?
Anna Maria Weber: "Only a fraction of the students I am counseling receive compensation for their internship at all. Moreover, compulsory internships, and generally internships up to three months, are excluded by law from even the minimum wage. On the one hand, I find that every internship should be paid, as students already have a high degree of qualifications with regard to an internship. On the other hand, unpaid internships offer students great opportunities to get into a position in the company later on, if they do well. It becomes absurd, of course, if a student moves to another, perhaps even more expensive city, like Hamburg, for the internship period and faces substantial additional costs to finance their internship. My tip: If someone would like to accept such an internship at all cost, one should save in advance, possibly with the help of a side-job. Ideal is when you have a friend or an aunt with a couch at the placement location. Whether there are students who take a loan to pay for an internship, is beyond my knowledge. However, it is often the case that students absolutely want to do an internship in this particular company. Then, the conditions are often completely irrelevant to them. However, one has to say that global players often reward their trainees. Then, in the ideal case, such a situation does not even arise."
Even with the most amazing internship, it can happen that there is nothing to do. What can I do without annoying my colleagues too much?
Anna Maria Weber: "Even if you're bored, you must under no circumstances do private things, or occupy yourself with the mobile phone. Instead, you should be active, if necessary in areas other than your regular field of work. Perhaps there is work that has been neglected for a long time which the trainee can well complete. If this is not the case, it is possible to offer to complete routine tasks such as inventory or archiving. However, those who are overwhelmed with the assignments should ask for help, because the sense of an internship is that one is not left alone, but is guided and acquires new knowledge."
What can I do if I simply do not find a job after studying? Do I sell myself under value if I accept an internship despite having a Master's degree?
Anna Maria Weber: "If you do not find a job immediately after your studies, you should not think: I am a failure. Because one has highly qualified oneself through the degree obtained. It is often the case that it is hard to find something suitable immediately. My tip: The best time to search for a job is early on, if possible even a year before graduation. This increases your chances. In the case of humanities scholars, it is also customary in many cases to set up a trainee program or do voluntary service. If you do not find anything after your studies, you should definitely think about doing an internship. Because that is better than becoming unemployed and thus leaving a gap in the CV. One can gain practical experience and at least earn minimum wage after three months. Ideally, this ends in a job or freelance work. And if there is no future in this company, a longer internship can still serve as a stepping stone for entering another company in the same industry."
Anna Maria Weber has been working for almost twenty years at the University of Siegen. For more than ten years. Among other things, she worked in the internship office of the School of Arts and Humanities - initially only for media science study programs, now for the entire school. She advises theology and philosophy students, as well as bachelor and master students of social and media sciences, history or literature, culture, media, and language and communication. Prior to her time at the University, she was employed for many years in the free economy.
Interview conducted by Nora Frei