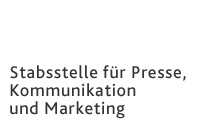 Contact
Executive Department for
Press, Communication and Marketing
Adolf-Reichwein-Straße 2a Gebäude AVZ (Gebäudeteil AR-NA) 57068 Siegen
Phone:&nbsp&nbsp&nbsp +49 (0)271/740-4915 Fax.:&nbsp&nbsp&nbsp +49 (0)271/740-4911 E-Mail:&nbsp&nbsppresse@uni-siegen.de
Uni-Shop is Moving
The university shop gets a new home. From the SSC it moves into the building AR-NA. During the time the shop is being relocated it remains closed. It will reopen on Tuesday, March 5.
Whether fair trade shirts and hoodies, coffee mug or jute bag: In the Uni Shop, there is a variety of products for the wardrobe or study and office. If you want to browse through the selection, you will not find it at the previous location in the SSC. The Uni Shop moves and gets a new home on the campus Adolf-Reichwein-Straße. In the future, the entire assortment will be in the room AR-NA 005 - in the building opposite the bus stop Adolf-Reichwein-Straße.

During the relocation, the shop remains closed. Online orders at www.uni-shop-siegen.de are still possible. On Tuesday, 5 March, the new shop will open its doors. From then on, new opening hours will also apply: Tuesdays from 10am to 1pm and Thursdays from 12pm to 4pm.