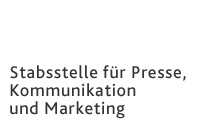 Contact
Executive Department for
Press, Communication and Marketing
Adolf-Reichwein-Straße 2a Gebäude AVZ (Gebäudeteil AR-NA) 57068 Siegen
Phone:&nbsp&nbsp&nbsp +49 (0)271/740-4915 Fax.:&nbsp&nbsp&nbsp +49 (0)271/740-4911 E-Mail:&nbsp&nbsppresse@uni-siegen.de
New Medicine Related Study Program Started
The winter semester at the University of Siegen has begun - and with it also the new and Germany-wide unique medical-related study course "Digital Biomedical and Health Sciences".
91 students are enrolled in the first cohort of the new Bachelor's program "Digital Biomedical and Health Sciences" at the Life Sciences Faculty (LWF) of the University of Siegen: 73 women, 18 men, about one third from the district of Siegen-Wittgenstein. But students from Bonn, Bergisch-Gladbach and Hamburg have also come to Siegen for this unique course of study. At the beginning of the semester, they were welcomed by the university rector Prof. Dr. Holger Burckhart and the founding dean of the LWF, Prof. Dr. med. Jaap Verweij. "During my ten-year tenure as Rector, I have never personally welcomed the students of a degree program. You can see how important this new, medically-oriented course of studies, which you will now be studying, is to us," explained Burckhart in the foyer of the Forschungskolleg Siegen. "In the future, you will accompany society and provide impulses based on basic research - in digitization and in patient orientation".
The Siegen study program for health professions of the future is unique in Germany and provides a broad knowledge in the fields of medicine, natural sciences, computer science as well as social and health sciences. The course is divided into three main areas: In the scientific focus "Biomedical Technology", the students deal with biomedicine, gene, enzyme and cell culture technology, bio analytics and biotechnology. The students of the health sociology focus "Digital Public Health" focus on development policy, health promotion and prevention, health policy, the ageing society, the digital health system and health inequalities. In the engineering science focus "Digital Medical Technology", students learn development skills, medical image processing, software development, programming, clinical IT, security in medical applications and mathematics.
What is so special? From the outset, the students of all three priorities have common study contents, for example medical topics, statistics and IT. Some seminars will take place at the four cooperating hospitals in Siegen. The students will also benefit from the cooperation with the University of Bonn and the Erasmus Medical Center Rotterdam. The aim is for students to gain as broad an insight as possible into the healthcare system from different perspectives and to be able to specialize at the same time. "Whether engineers, doctors or technicians - everyone should speak the same professional language. Unfortunately, this is still too often the reason why successful cooperation fails today. We want to change that," explained LWF founding dean Prof. Dr. med. Jaap Verweij. "Some things in the health system do not run smoothly in Germany - be it the clinic documentation or the medical care in rural areas", emphasized the deputy dean Prof. Dr. Christoph Strünck. "We need you. We need people who cross borders and do interdisciplinary research and work". Prof. Dr. Rainer Brück, Dean of Life Sciences, added: "We offer more than medicine here in Siegen. We offer three specializations that are interwoven. Doctors remain specialists, but there will be many professions in the future that will help to make diagnoses as quickly as possible."
The special and so far unique Siegen approach with a clear focus on digitization was decisive for many of the new bachelor students in their choice of program. "I think it's good that you get insights into different areas and don't just do your own thing," says Christian Jung from Betzdorf. Henning Ranke from the Oberberg district was also attracted by the special combination of different disciplines. His conclusion after the first two weeks is positive: "Everyone at the faculty is very friendly and helpful, we feel we are in good hands". Neruna Yugarajah from Mönchengladbach has decided to focus on "Digital Medical Technology". She has already observed in practice that there are often communication problems between different professions in hospitals, she says: "I would love to help develop solutions for this".
In special seminars with renowned personalities, particularly committed and motivated students have the opportunity to get to know topics they rarely find at universities. Seminars are planned on Neanderthal DNA, criminal biology, shaman medicine and border experiences. Guests will include criminal biologist Dr. Mark Benecke and his team, as well as well-known personalities from the field of extreme sports.
Further information on the new course of studies of the Faculty of Life Sciences (LWF) can be found here.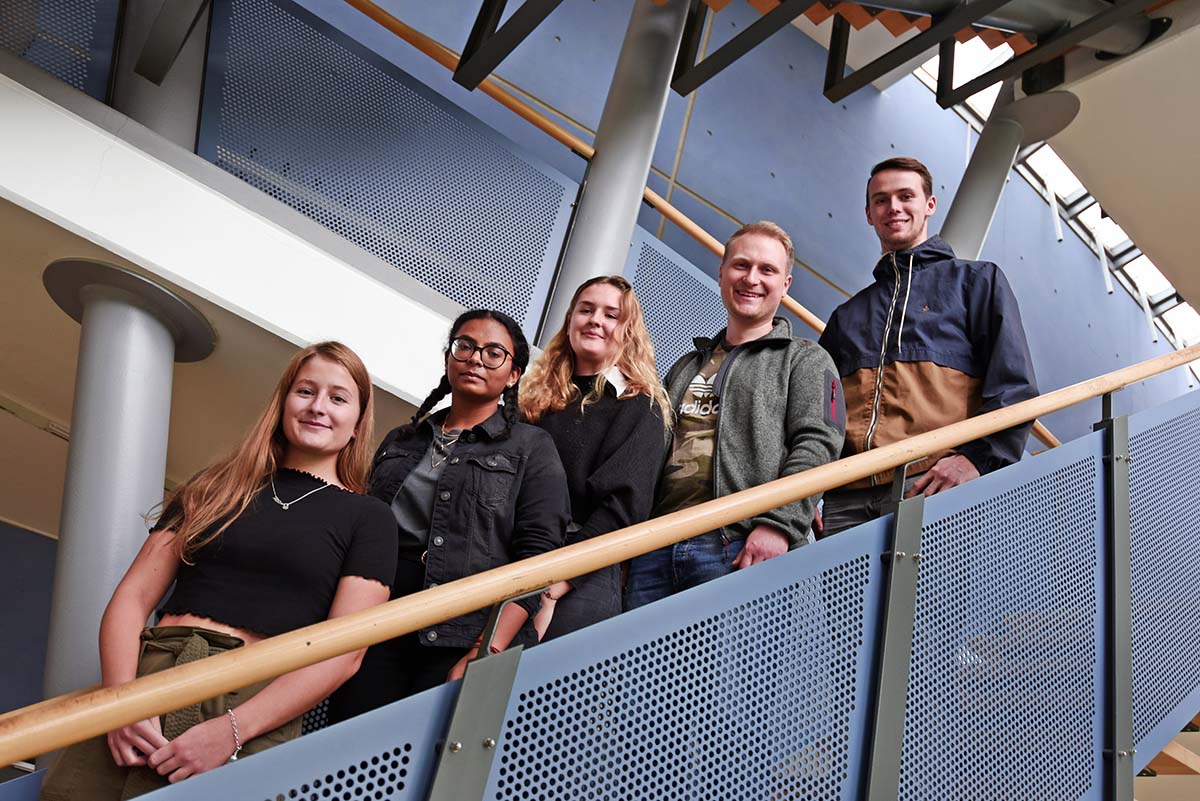 Milena Grützmann, Neruna Yugarajah, Pia Greitens, Christian Jung and Henning Ranke belong to the first student cohort of the new course "Digital Biomedical and Health Sciences".