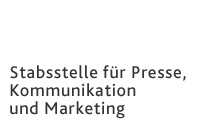 Contact
Executive Department for
Press, Communication and Marketing
Adolf-Reichwein-Straße 2a Gebäude AVZ (Gebäudeteil AR-NA) 57068 Siegen
Phone:&nbsp&nbsp&nbsp +49 (0)271/740-4915 Fax.:&nbsp&nbsp&nbsp +49 (0)271/740-4911 E-Mail:&nbsp&nbsppresse@uni-siegen.de
Award for International Commitment
The University of Siegen has awarded faculty Erasmus coordinators for their commitment. Chancellor Ulf Richter presented the certificates at a reception for those involved in the Erasmus+ program and for international students.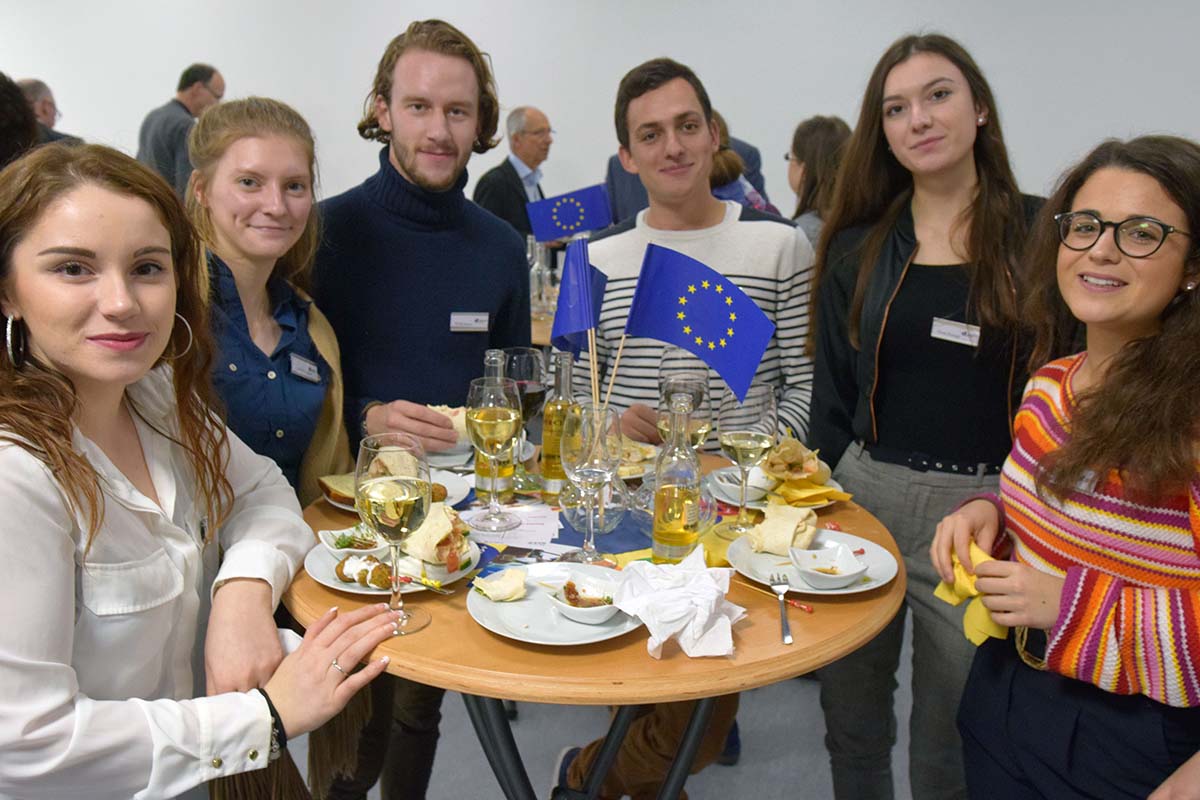 A semester or internship abroad not only imparts important language and intercultural skills - for many students it is also one of the most beautiful and formative experiences of their studies. In order to make such a stay possible for as many of its students as possible, the University of Siegen has been actively participating in the Erasmus+ program for many years. There are currently around 150 partnerships with universities in other European and non-European countries. Students from Siegen can spend part of their studies there - at the same time, the University of Siegen welcomes international students from its partner universities to Siegen every semester. This exchange is made logistically possible by the commitment of Erasmus subject coordinators in the schools and departments. In recognition of their achievements, one coordinator per school has now been awarded a certificate at a reception.
"Your work is of the utmost importance for international exchange. With your commitment, you are making a decisive contribution to ensuring that students' experiences abroad are positive and successful," said University Chancellor Ulf Richter, who presented the certificates. The subject coordinators make agreements with partner institutes of foreign universities, cultivate partnerships at department- and school level, advise Siegen students on the choice of 'their' foreign universities, as well as the choice of courses locally, and supervise international students during their time in Siegen. "All this is enormously important so that the Erasmus+ idea can be put into practice in the individual disciplines. We want to value this work and at the same time motivate even more teachers to invest in such partnerships," said Katharina Sommer, head of the International Student Affairs (ISA) department.
The awards, each with a recognition in the amount of 250 euros, went to the winners:
Faculty I:
Dr. Bettina Grimmer:  (Seminar for Social Sciences, Sociology - Comparative Cultural Sociology and Political Sociology of Europe)
Faculty II:
Prof. Dr. Michael Lenhart (Department of Architecture, Architecture Informatics and Design)
Petra Klein (Department of Architecture, Interior Design)
Faculty III:
Prof. Dr. Gerd Morgenthaler (Commercial Law, Public Law Taking into Account European and International References)
Faculty IV:
Prof. Dr. Heiko Ihmels (Chemistry - Biology, Organic Chemistry II)
Prof. Dr. Raphaela Averkorn (Faculty I, Middle and Modern History) was also honored for her special commitment within the framework of the international dimension of Erasmus+. She has initiated several projects with universities within and outside Europe and supervises them in parallel. These include projects with universities in Chile, China and Georgia.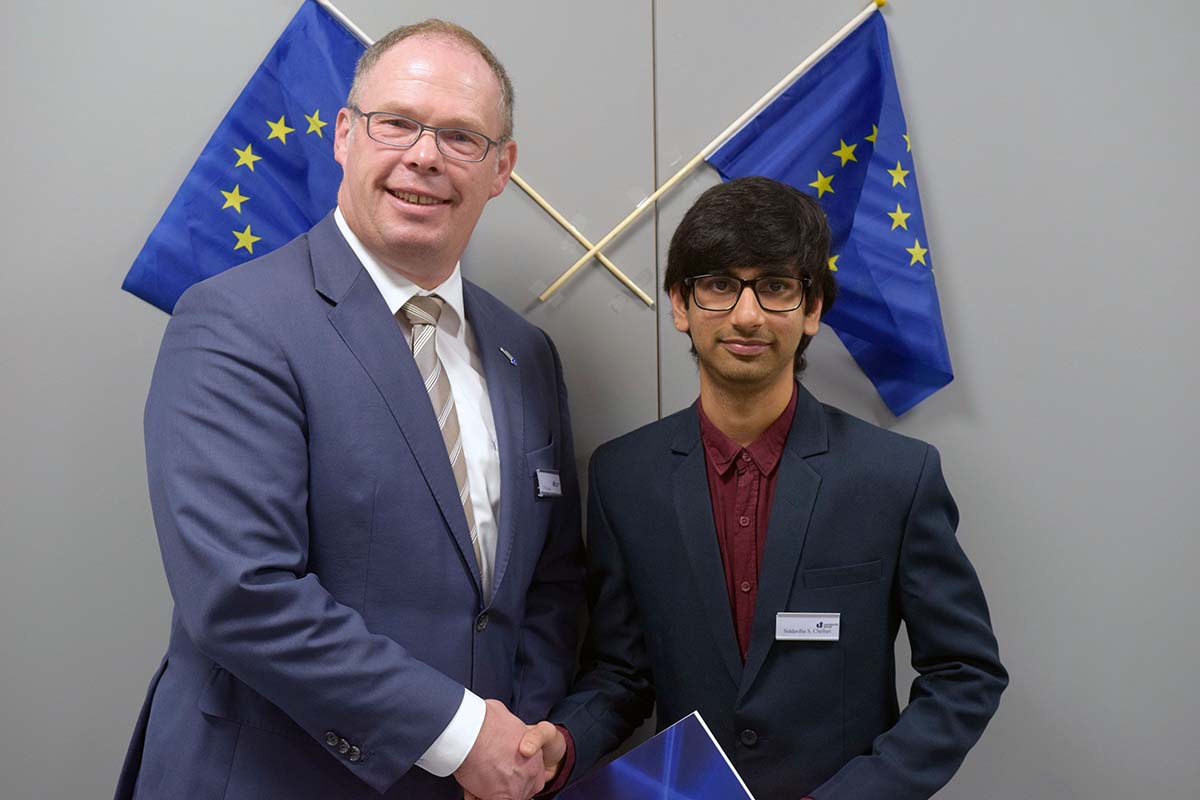 The DAAD Prize for committed international students was also awarded at the reception. The prize, worth 1,000 euros, went to Siddardha Subrahmanya Chelluri, who is currently completing his Master's degree in Physics at the University of Siegen and who is looking after international students on a voluntary basis.
Following the awards, all participants had ample opportunity to exchange ideas with each other and strengthen themselves at an international buffet during the reception.
The Erasmus+ program is of outstanding importance for the international exchange and worldwide networking of students and researchers. In addition to students, it also enables employees of universities to make guest stays at international partner universities. In the current project, a total of 122 places for students and 24 places for employees are available at the University of Siegen. Further information on the Erasmus+ program is available from the International Student Affairs department at www.uni-siegen.de/isa

Contact:
Katharina Sommer (Head ISA)
Phone: 0271-740 3907
E-mail: katharina.sommer@zv.uni-siegen.de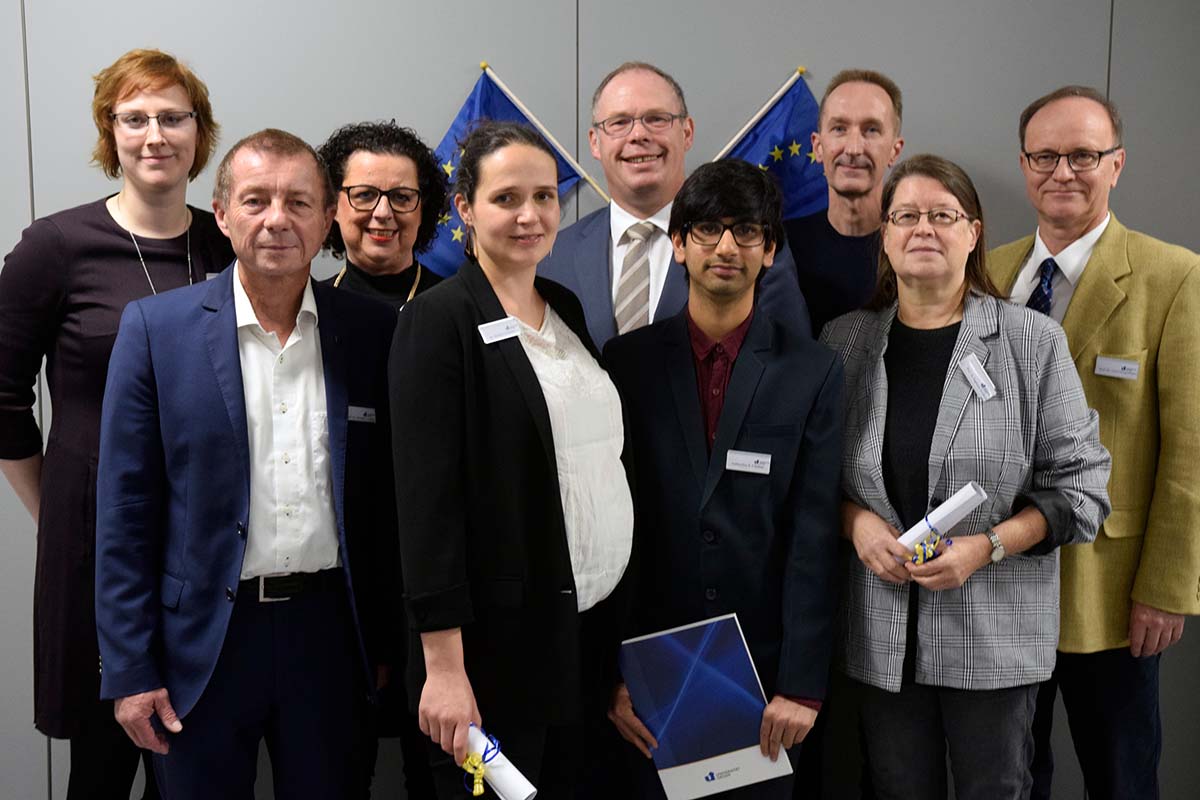 The head of the International Student Affairs department, Katharina Sommer, with the award-winning coordinators Prof. Dr. Michael Lenhart, Petra Klein (both Faculty II), Dr. Bettina Grimmer (Faculty I), University Chancellor Ulf Richter, DAAD laureate Siddardha Subrahmanya Chelluri, Prof. Dr. Heiko Ihmels (Faculty IV), Prof. Dr. Raphaela Averkorn (Fak I) and Prof. Dr. Gerd Morgenthaler (Fakculy III) (l.t.r.).