ATHENA connects international universities to regional industry
Fruitful exchange on cooperation and joint research projects at Campus Buschhütten
Representatives of the seven universities of ATHENA met regional industry on Wednesday 4 May 2022 at the newly opened "Campus Buschhütten" to develop ideas for cooperation and joint research projects. As part of a three-day workshop on the topic of "Collaboration between university and companies", around 20 international guests visited the cooperation project of Achenbach Buschhütten, the University of Siegen, RWTH Aachen University and other companies.
After a tour of the approximately 5,000 square metre site, the programme included a one-and-a-half hour event organised by the ATHENA office in Siegen and the Bundesverband mittelständische Wirtschaft (BVMW, German Association for Small and Medium-sized Businesses). Matching the thematic focus on "Internet of Things" and automation, the university representatives met numerous companies from the region.
Dr Ilka Kureck, initiator of the event, moderated the evening programme held in an industrial environment that proved to be highly inspiring for all participants. In his welcoming address, Prof. Dr Peter Burggräf from the Chair of International Production Engineering and Management at the University of Siegen and co-initiator of the "Campus Buschhütten" emphasised the importance of successful cooperation between universities and companies. According to him, these partnerships are essential to strengthen the region's competitiveness in the long term. Prof. Dr Hubert Roth, head of ATHENA at the University of Siegen, and Matthias Merzhäuser, representative of the BVMW in the southern North Rhine-Westphalia region, also spoke about the mutual benefits of such cooperation. In addition to joint research projects and improved prospects for graduates, this also includes a comprehensive offer for lifelong learning. The most important point on the agenda were the subsequent presentations of the seven partner universities, in which their respective industrial environment, already existing cooperations between university and companies and the most important research priorities were introduced.
The second part of the event focused on networking. Representatives of ATHENA exchanged ideas about future cooperation in a relaxed get-together with the companies present. Dr Salvatore Monteleone, who had travelled from the Niccolò Cusano University in Rome, was pleased to have the opportunity to get in touch with potential new partners: "The motivation and commitment of the University of Siegen can be felt down to the smallest detail. This event has confirmed that once again". Co-organiser Rainer Jung from BVMW was also satisfied with the kick-off of relations between ATHENA partners and regional industry. "An interesting event, which also showed the possibilities of selective cooperation in projects of the university(ies) with medium-sized companies in our region," he summed up the successful event.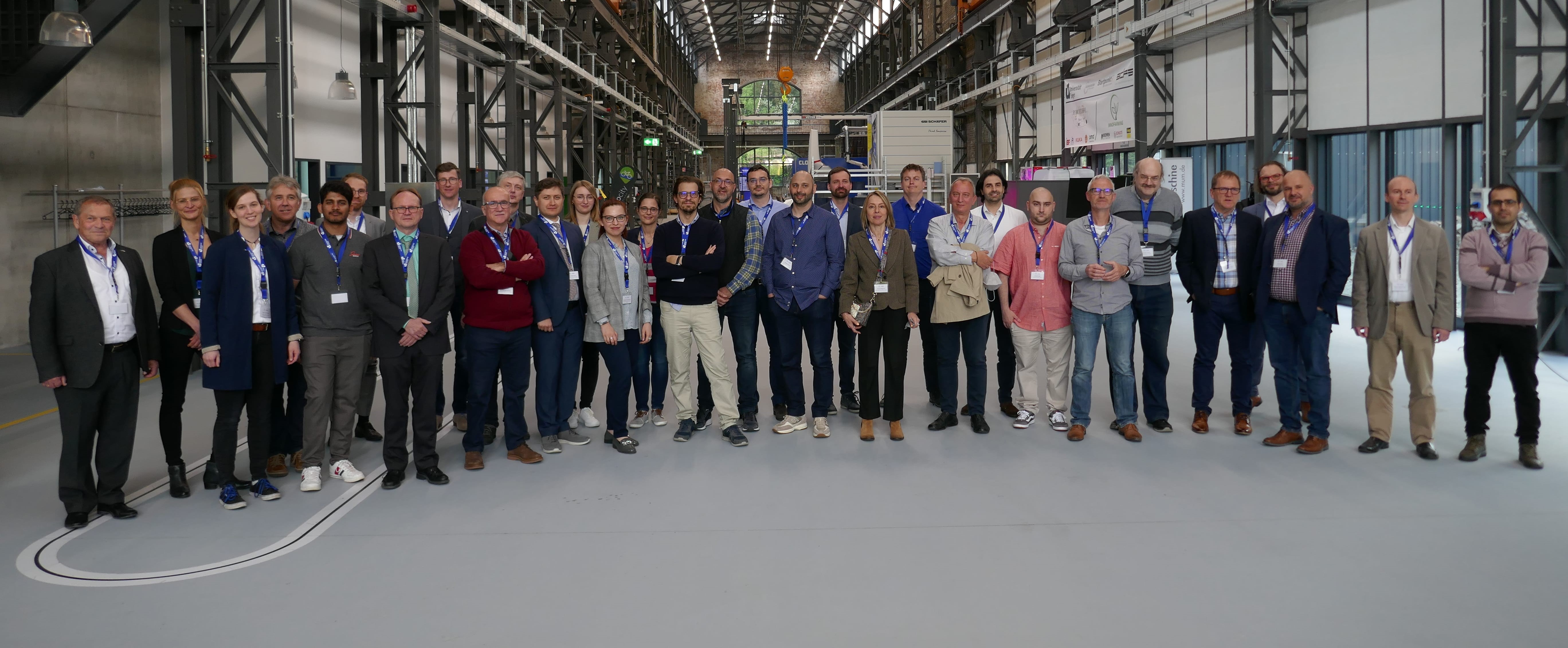 Representatives of the ATHENA partner institutions together with regional industry at Campus Buschhütten