Corona information portal
Information from the university management - Information about the winter semester 2020/21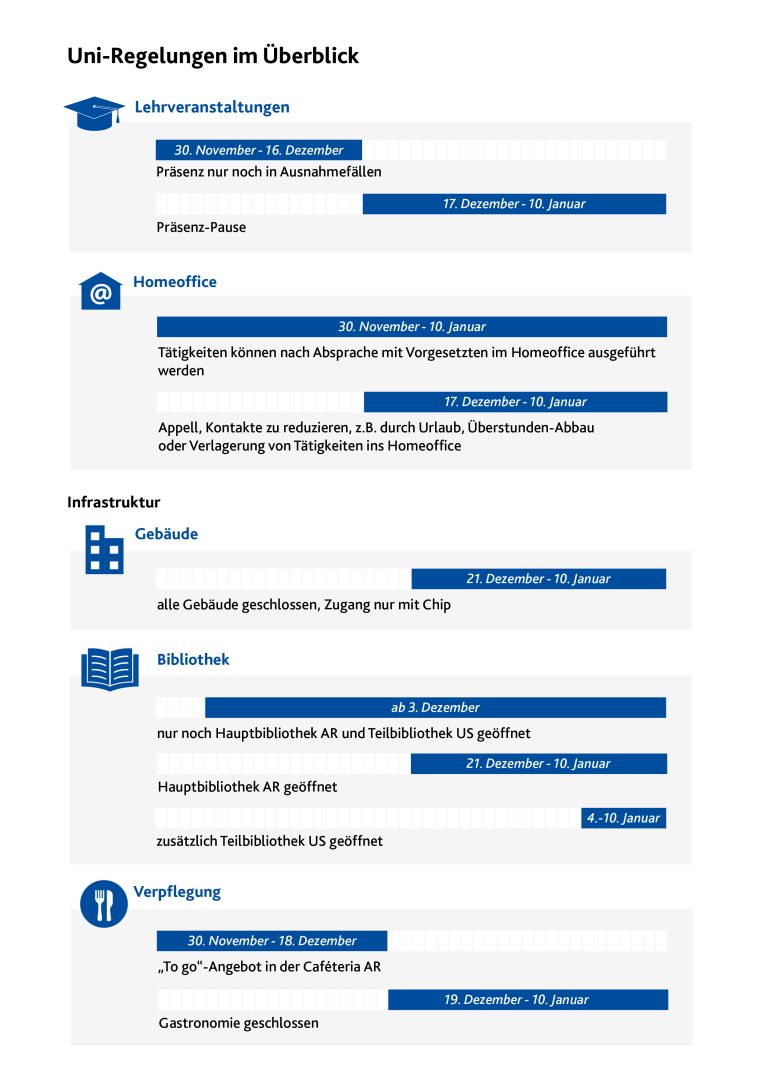 Letter from the university management
In order to slow down the spread of the corona virus and to protect all university members as well as possible, the university management has taken up the agreements made by the federal and state governments on November 25th, 2020 and implemented them in new regulations. These will apply from Monday, November 30th, 2020.
For a better overview you will find the regulations here as a graphic (click to enlarge - german language).
Update 11-27-2020 4 pm
Old Version
In view of the increasing number of infections in Germany, Chancellor Angela Merkel has been highlighting the importance of reducing avoidable contacts and observing the AHA rule. The university management joins this call and asks everyone to act responsibly in all areas of life.
Please take a look at the individual sections of the FAQ portal to find the corresponding regulations.
---
Winter semester 2020/21
The university has prepared for a hybrid semester for the winter semester 2020/21. We aim to enable classroom teaching, while meeting all the requirements of infection control. Courses with a maximum of 50 participants may be taught in-classroom or in hybrid or digital format.
The university management recommends that all courses that can be digitally implemented should be implemented digitally.
---
Behaviour in case of infection / hygiene rules
In the event that members of the University of Siegen have tested positive for corona or there is a suspicion of infection, we have set up a hotline at the following number: +49 (0) 271/740-5555.
For all courses, examinations, scientific events, committee meetings, etc. that are held in attendance, it is mandatory to record the contact details of all participants.
The registration is to be done electronically via QR codes. Under the following links you will find instructions on how to create QR codes (Instructions for teachers / Instructions for students).
Current status of the portal: December 2nd, 2020 11:30 am