ATHENATHON 2023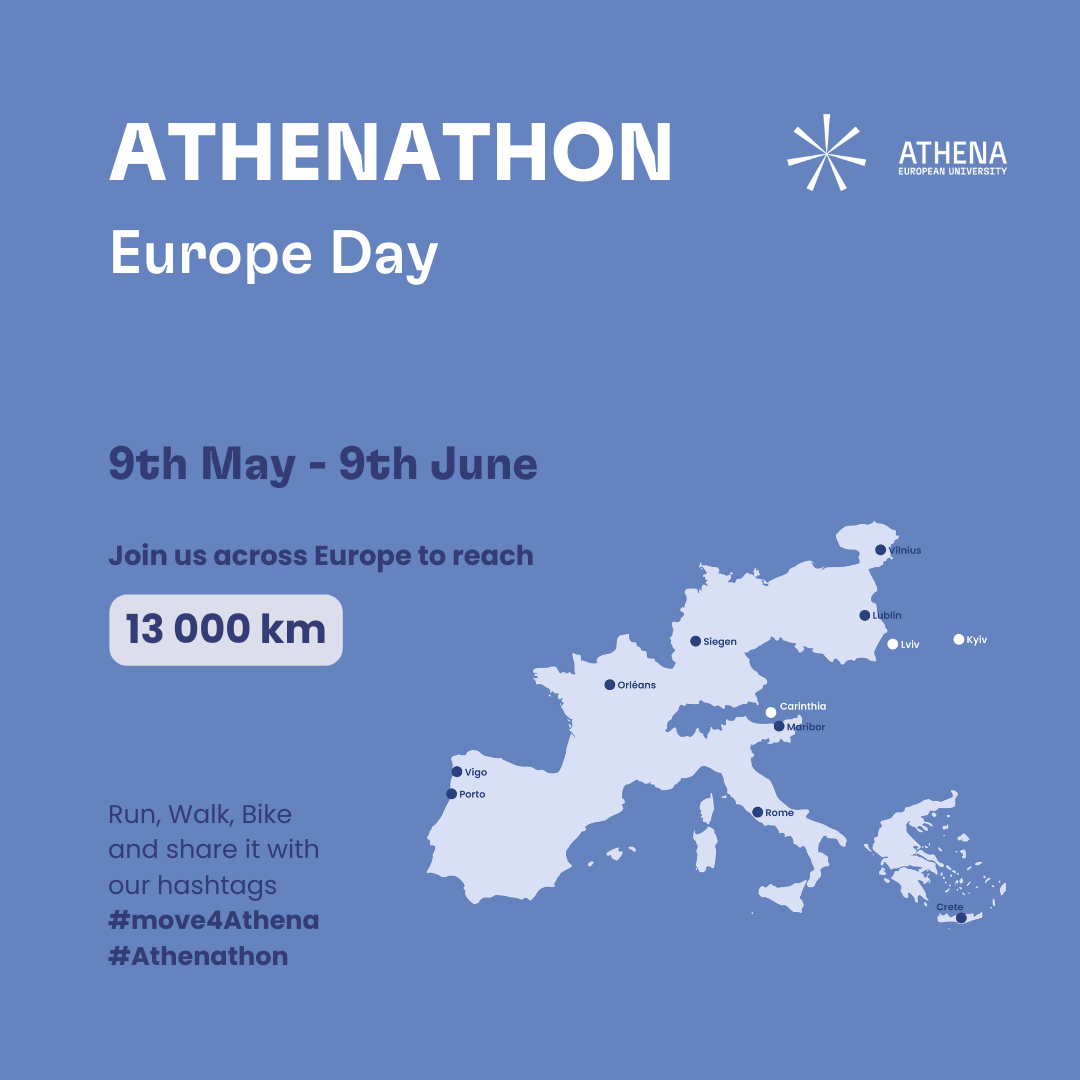 The nine universities of ATHENA are proud to launch the third edition of the ATHENATHON - the green ATHENA sports event: From 9 May until 9 June 2023, we invite students, staff, and everybody else to join this event. Together, we want to reach 13,000 km, the distance that connects an overall of twelve universities: our nine ATHENA universities and three associated partner universities. The ATHENATHON is a non-competitive event, we are all working together towards our goal of reaching 13,000 km.
Next to our seven founding institutions, we are happy to welcome for the first time our new partner universities University of Vigo and Maria Curie-Skłodowska University as well as our three associated partner universities Carinthia University of Applied Sciences, Lviv Polytechnic National Universiy and Igor Sikorsky Kyiv Polytechnic Institute in the ATHENATHON.
Starting on Europe Day, this one-month long initiative is embedded in a vision of a green and climate-friendly Europe. Thus, we will consider all carbon-free activities: running, walking, swimming, biking, hiking, aqua-biking, skating, treadmill running, indoor biking, rowing, canoeing, rock-climbing, stair-climbing, etc. Last year, we reached more than 32,000 km. Let's move together for ATHENA and break our record!
To take part in the event, participants submit the number of kilometers they made (1) by posting on Twitter, Facebook, or Instagram with the hashtags #move4athena or #athenathon and a screenshot of their favourite tracking app performance as evidence, or (2) by joining our Strava Club: ATHENA European University. Each participant can contribute multiple times and join from anywhere in Europe and beyond!
For more information, please check the ATHENA website.
How to participate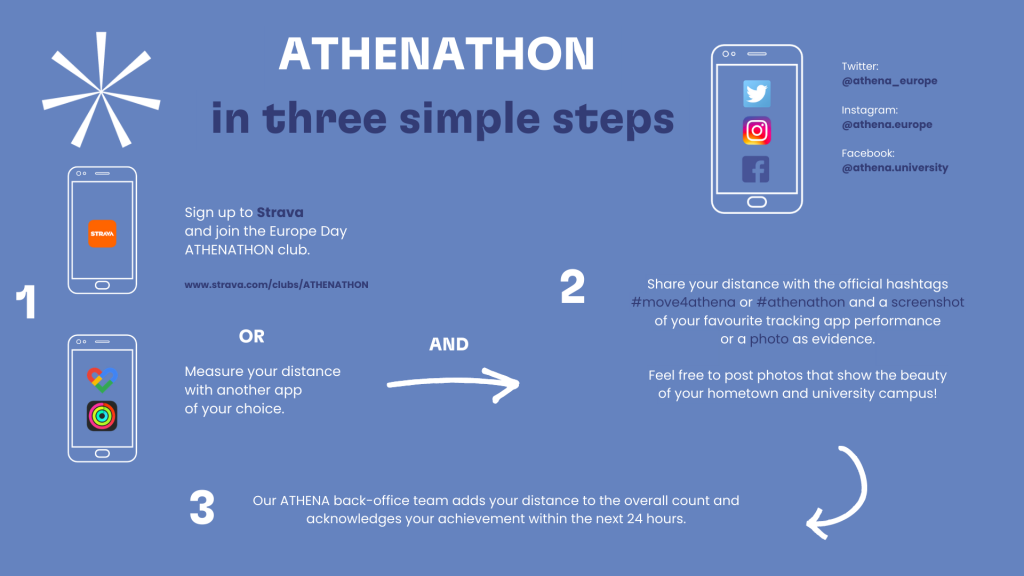 Why you should participate in the ATHENATHON

It is a free event!
Anyone can take part in the event.
It is not a competition, nobody loses!
Participate when you want and at your own pace.
You will be part of a unique European experience.
Show your campus and town to students all over Europe.
Adopt a healthy and environmentally friendly lifestyle.
Stay positive and keep going
Physical exercise boosts your productivity and improves your mood.
Take some fresh air.
It gives you the opportunity to do a fun activity with your friends and colleagues.
Because we need to focus on something else than daily life.
Students: take a break from the stress of the exam period.
You can brag about your physical exercise on social media!
Because we are all part of the same European University: ATHENA!
Personal Data Protection Regulation
If you participate in the Europe Day ATHENATHON in the ways described above (by joining the Europe Day ATHENATHON Strava club or by posting your sporting performance on Twitter, Facebook or Instagram with one of the official hashtags #athenathon or #move4athena), you agree with the following statement:
I am aware that the member institutions of ATHENA European University (i.e. the Polytechnic Institute of Porto, Hellenic Mediterranean University, University of Siegen, University of Maribor, University Niccolò Cusano, University of Orléans, Vilnius Gediminas Technical University, University of Vigo, and Maria Curie-Skłodowska University in Lublin as well as its associated partners Carinthia University of Applied Sciences, Lviv Polytechnic National Universiy and Igor Sikorsky Kyiv Polytechnic Institute) process all personal data transmitted and protected in accordance with the provisions of Regulation (EU) 2016/679 of the European Parliament and of the Council of 27 April 2016 on the protection of individuals with regard to the processing of personal data and on the free movement of such data and repealing Directive 95/46 / EC (General Data Protection Regulation) (OJ L 119, 4.5.5.2016, p. 1– 88). I am aware that my personal data will be processed by employees of the aforementioned higher education institutions, who are by function or the workplace authorised to do so.