History
Short information
Restricted
admission
Regular
study time
Winter
semester
Summer
semester
no
6 semester
✔
Advanced
major
Major
combination
Major
Minor
✔
✔
✔
✔
Admission procedure
No admission required, no application required
Graduation
Bachelor of Arts
More information
Deadlines
The degree program
The degree program offers a well-founded historical basic training in the ears of antiquity, middle ages and modern times, as well as the historical partial disciplines. Basic education in the first year of studies is followed by more detailed mediation of knowledge from all eras and individual specialization: Required elective modules can be chosen individually and according to interests. Excursions or historical projects teach key qualifications that reinforce the subject-scientific studies and supplement it by practical additions.

The methodical approach is dealt with in all seminars, so that the students will develop a well-founded specialist knowledge and an interdisciplinary method competence by the time they complete their degree. Repeating oral and written work with historical facts provide particularly good training in subject-specific vocabulary and techniques of scientific argumentation. Critical work with complex issues and different sources also sharpens social, political and historical awareness.
Study structure
The subject bachelor's degree program at the School of Arts and Humanities allows students to combine various major and minor subjects with each other. The following subject combination programs are available: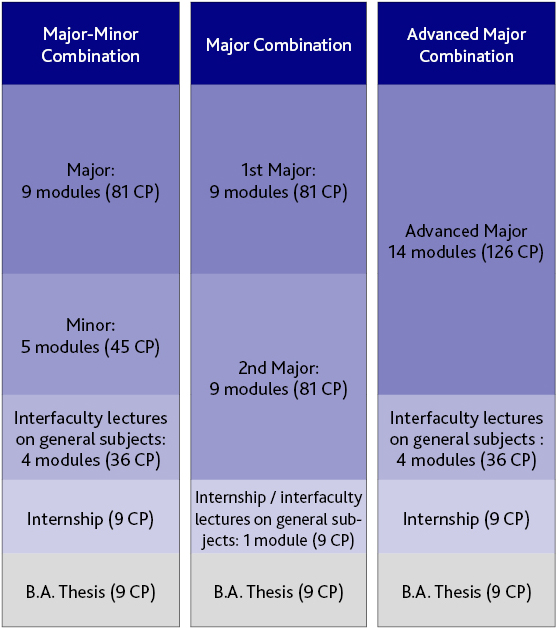 In the major-minor combination, History can be combined with the following minor subjects:
In the subject-oriented subject combination program, combination with the following majors is possible:
Important information
By the end of their studies, students must document skills in two modern foreign languages or a modern and a classical one.
Professional perspectives
The degree program qualifies for various professions based on the possibility to set individual focuses and to combine many subjects: Publicity and culture work at international and national, public and private institutions, e.g. private-economic consultancy agencies, parties and associations, museums, libraries and archives, institutes for applied social research and education, press, radio and publishing houses, institutions of the IT-area. Additionally, it teaches interdisciplinary key qualifications that are of outstanding importance for professional work in science, business and society.
Study organization
Examination regulations/degree plan/module manuals/internship rules

Examination regulations (POs) specify the basic structures of a degree program (e.g. admission requirements and contents to be studied). Students are automatically subject to the current version of their PO when they matriculate for their first subject-related semester. This means that even if the PO changes during their studies, the original version according to which they matriculated will remain valid (provided that the PO does not expire).
The respective degree plan is the recommended example progress of the studies in individual subjects and is part of a PO.
Supplementary provisions and details for any module to be studied can be found in the module manually (e.g. requirements for taking a written test or content-related information on the modules/events, ...).
The internship rules define the conditions under which the required or optional internships must be completed.
We recommend at least looking at the study schedule for your degree program before the lecture time starts, to ensure that you know which modules are intended for the start of your studies.
Master's degree program