Assoc. Prof. Korakoch Attaviriyanupap - Prof. Dr. Petra M. Vogel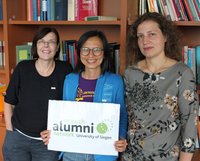 Meet Assoc. Prof. Dr. Korakoch Attaviriyanupap, expert in the field of German Linguistics in Thailand
Professors Attaviriyanupap and Vogel got to know each other through their mutual research area of German grammar while they were both at the University of Bern, where they often happened to meet while they were both attending research seminars there. Prof. Dr. Attaviriyanupap was working on her doctorate there while Prof. Dr. Vogel was working on her postdoctoral qualification. Prof. Dr. Attaviriyanupap's research was concerned with the second language acquisition of Thai immigrant women in Switzerland. Her contrasting work on the German and Thai languages has continued after she completed her PhD and returned to Thailand. Once she was back in Thailand, she wished to undertake a research stay in Germany, so that she would be able to discuss her thoughts and ideas with German linguists. It was for this reason that she contacted Prof. Dr. Vogel again, who had then accepted a professorship at the University of Siegen. In 2009, the time had come: Prof. Dr. Vogel received her tandem partner for the first time at the University of Siegen. Since then Prof. Dr. Attaviriyanupap has come to Siegen nearly every year to work on joint projects with her research colleague. Prof. Dr. Attaviriyanupap always spends her longest research stays at the University of Siegen.
Both scientists are particularly interested in typological approaches, which are those concerning the comparison and classification of languages in terms of structural characteristics. During their many years of cooperation, the tandem colleagues have worked on a number of joint projects, including a publication by Prof. Dr. Vogel in which Prof. Dr. Attaviriyanupap participated. This year another publication is also planned, together with Dr. Baumann, who is Prof. Dr. Vogel's scientific Assistant and Academic Consultant. It was while she was writing her dissertation at Prof. Dr. Vogel's department that Dr. Baumann got to know Prof. Dr. Attaviriyanupap. It quickly became evident that they had a good basis for a scientific exchange: While Prof. Dr. Attaviriyanupap examined the equivalents of the German modal verbs in Thai, Dr. Baumann conducted research on the same subject in her dissertation, only in German. Both are currently working on a joint publication on "Von X zu X: Die syntaktische Reduplikation im Deutschen" (From X to X: Syntactic Reduplication in German). It deals with the question of whether there are analogies in German of the established morphological process in Thai and to what extent functional overlaps can be proven.
Prof. Dr. Attaviriyanupap also began her own research project on the topic of "The Thai morpheme hâj and its equivalents in German". This Thai morpheme can be translated into the German word geben (give), it is however multifunctional and can be assigned to different classes of word in different contexts. Whatever happens next, she wants to continue this project further. The insights from the Associate Professor are of particular interest for the German as a foreign language department of her University in Bangkok. This research area is more widespread in Thailand than the field of German linguistics which Prof. Dr. Attaviriyanupap is engaged in. She will get her full professorship in the near future. This is rather special, since she will then be the only professor of German in Thailand who is not retired.
There has been a partnership between the German Department of Silpakorn University and Faculty I of the University of Siegen for some years. The University of Siegen is well-known in Thailand and enjoys a good reputation, not least because it was the first university in Germany to recognise Master's degrees in German Studies that were acquired in Thailand. As part of this partnership, some Thai students have visited the University of Siegen, another Thai student has successfully completed her Master's degree, and two students from the University of Siegen have gone to Silpakorn University's German Department for an internship.
After talking with both tandem partners, it is clear that Prof. Dr. Attaviriyanupap and Prof. Dr. Vogel have a familiar and close scientific relationship. They also have concrete plans for the future. In 2019 Prof. Dr. Vogel, and possibly Dr. Baumann, would like to visit Prof. Dr. Attaviriyanupap at Silpakorn University. Prof. Dr. Attaviriyanupap would also like to have a longer research stay in Siegen. She always looks forward to learning about new approaches and receiving suggestions that she can take home. When asked about what she associates with Siegen, Prof. Dr. Attaviriyanupap replies "By now it's almost become like home, because I am always coming back."