Alumniverbund der Universität Siegen - The International Network
Regardless of whether you completed your studies some time ago, or are still working on your degree, everyone who has studied, taught, worked or conducted research at the University of Siegen should stay connected. Become a part of the international network of your university! Benefit from lively exchanges between theoretical and practical knowledge, make contacts and take advantage of the variety of services offered by us, the "Alumniverbund der Universität Siegen" - the international network of the University of Siegen, together with the alumni groups of the faculties. Your participation will also allow you to actively shape the network.
Are you not yet a member of the network? Click here to create your "myAlumni" profile in the Alumni Portal!
You already created your profile in the Alumni-Portal? Click here to login directly to the Alumni Portal with your profile!
---
Alumni share experiences from their personal and professional development in these interviews. They may have all studied at the University of Siegen, but each one of them has their own story to share. Click here to read their portraits.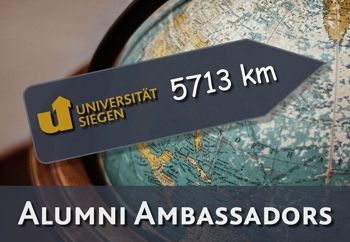 My Uni Siegen signpost: Our international alumni highlight their connections to the University of Siegen by holding a signpost with the distance to Siegen from some particularly meaningful places at their current location. Click here to read more about our ambassadors.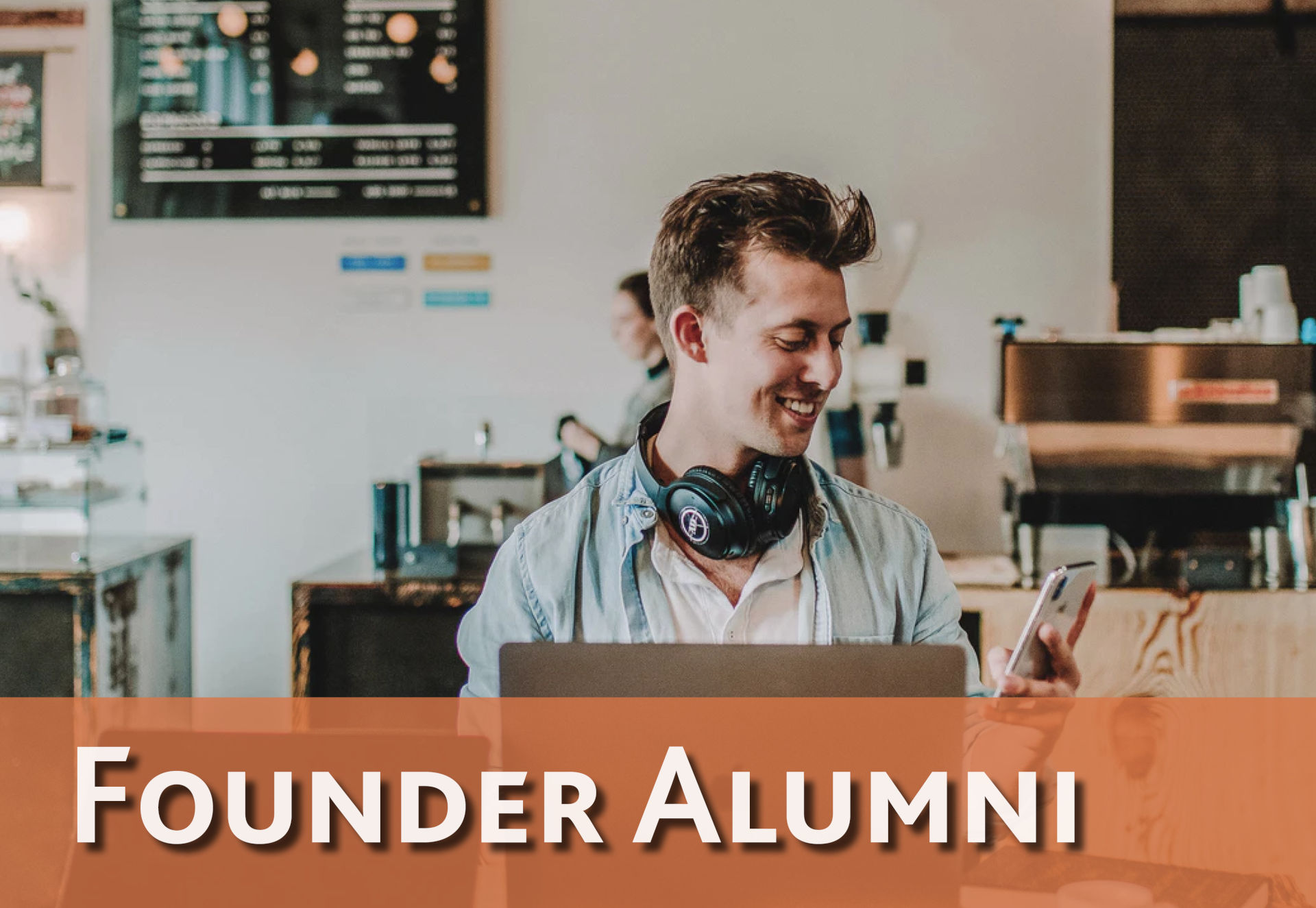 Some alumni of the University of Siegen decide to start their own businesses.The ideas behind each company are as unique as the founders themselves. These alumni talk about their exciting start-up experiences in various interviews. Click here to read more about our founder alumni.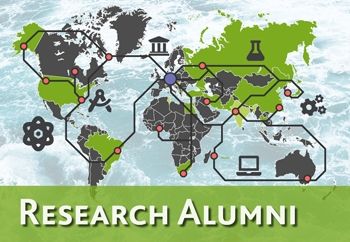 International scientists from our research network give an insight into their research collaboration with researchers from the University of Siegen. Click here here to see the research alumni gallery aswell.
Latest News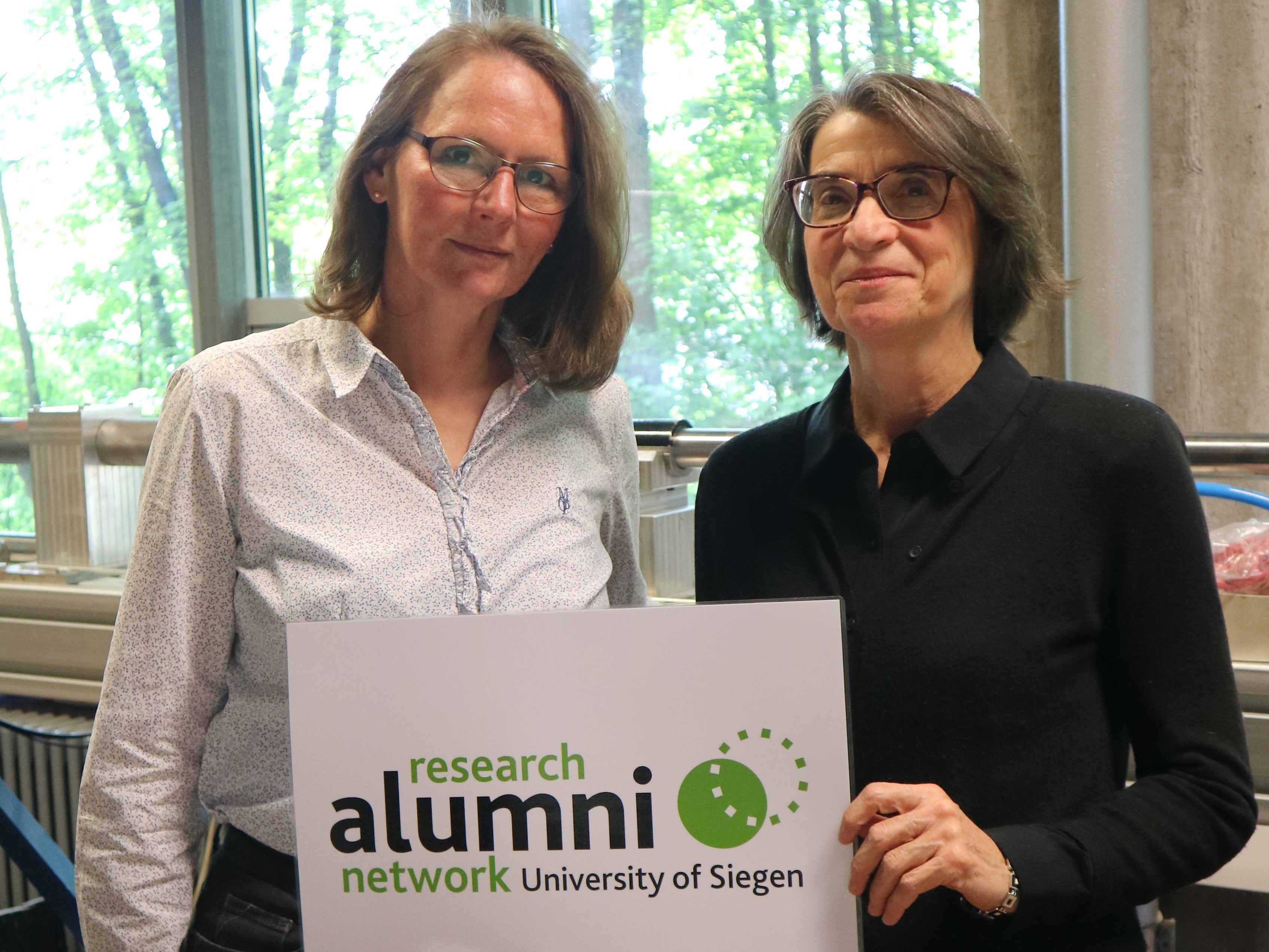 New Research Alumni Tandem online:
Dr. Anna Pandolfi and Prof. Dr.-Ing. Kerstin Weinberg - A strong cooperation on fragile matters

Dr. Anna Pandolfi and Prof. Dr.-Ing. Kerstin Weinberg currently investigating a special type of concrete. Concrete is a construction material particularly apt to sustain compressive loads, but this material performs less well when exposed to impact or long-term vibrations that induce a tensile state. Tensions are dangerous because they may cause cracks, which shorten the life of the material. Click here to read more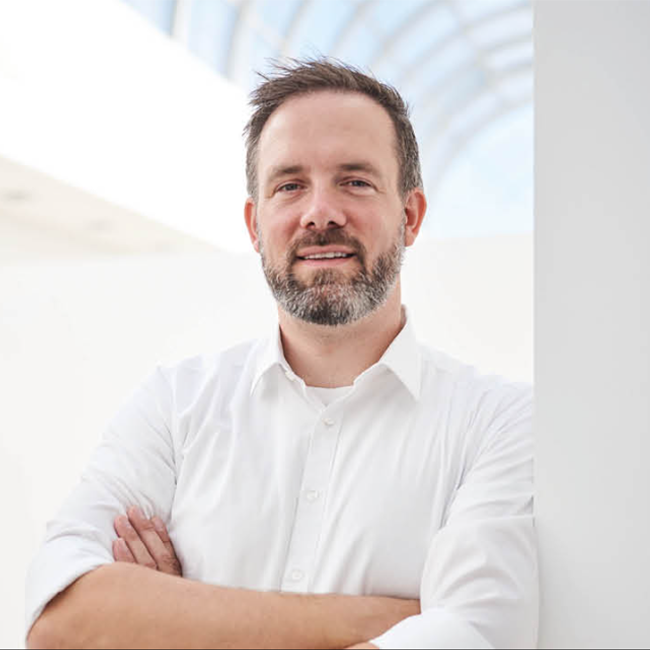 Neues Gründer-Portrait online:
eleQtron
Das aus der Uni Siegen heraus gegründete Start-up eleQtron betreibt hohe Physik. Ein Team aus mehr als 40 Mitarbeitern aus 15 Nationen entwickelt als Spin-Off des Lehrstuhl für Quantenoptik skalierbare Quantencomputer Deutschlands. Co-Founder Jan Leisse erklärt im Interview, dass Quantencomputer heute unlösbare Probleme lösen werden und wie er als studierter Bauingenieur und MBA im das Unternehmen weiterentwickelt. Click here to read more.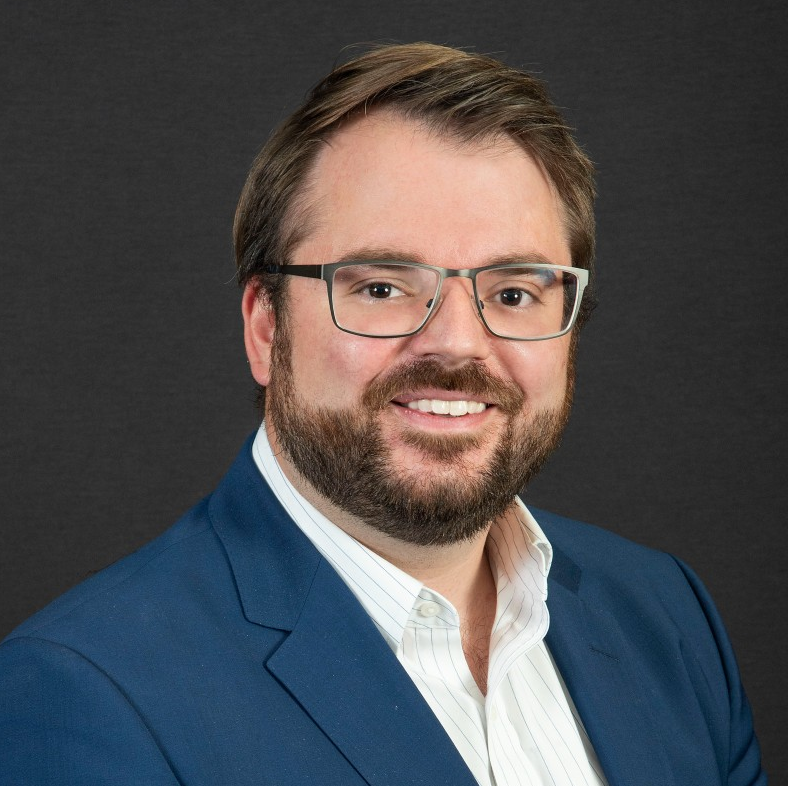 New Alumni-Portrait online:
Daniel Schmuck
Daniel Schmuck hat Europastudien und Sozialwissenschaften an der Universität Siegen studiert. Heute lebt er in New Mexico, USA und arbeitet dort bei der Organisation Albuquerque Regional Economic Alliance (AREA). Er unterstützt die Region und gewinnt Firmen dafür, New Mexico für ihren Standort zu wählen. Auch außerhalb von wirtschaftlichen Perspektiven bietet die Stadt Albuquerque eine Vielzahl an Möglichkeiten. Click here to read more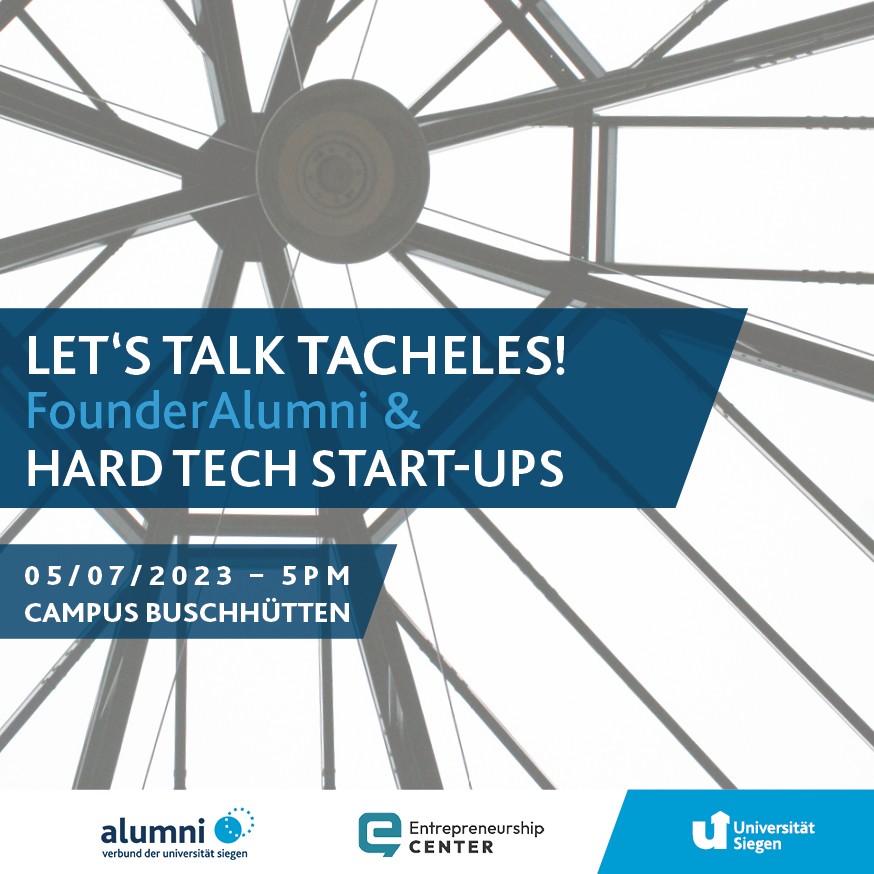 Tech Tacheles – Innovation aus Südwestfalen
Deep & Hard Tech Venturing was the focus of the Founder Alumni Talk series "Let's Talk Tacheles!" in July. This time, we had the pleasure of welcoming three Founder Alumni who founded their own companies close to home in the vicinity of the University of Siegen. As part of the innovative industrial region of South Westphalia, they discussed the challenges of a research-intensive start-up with students and employees. Click here to read more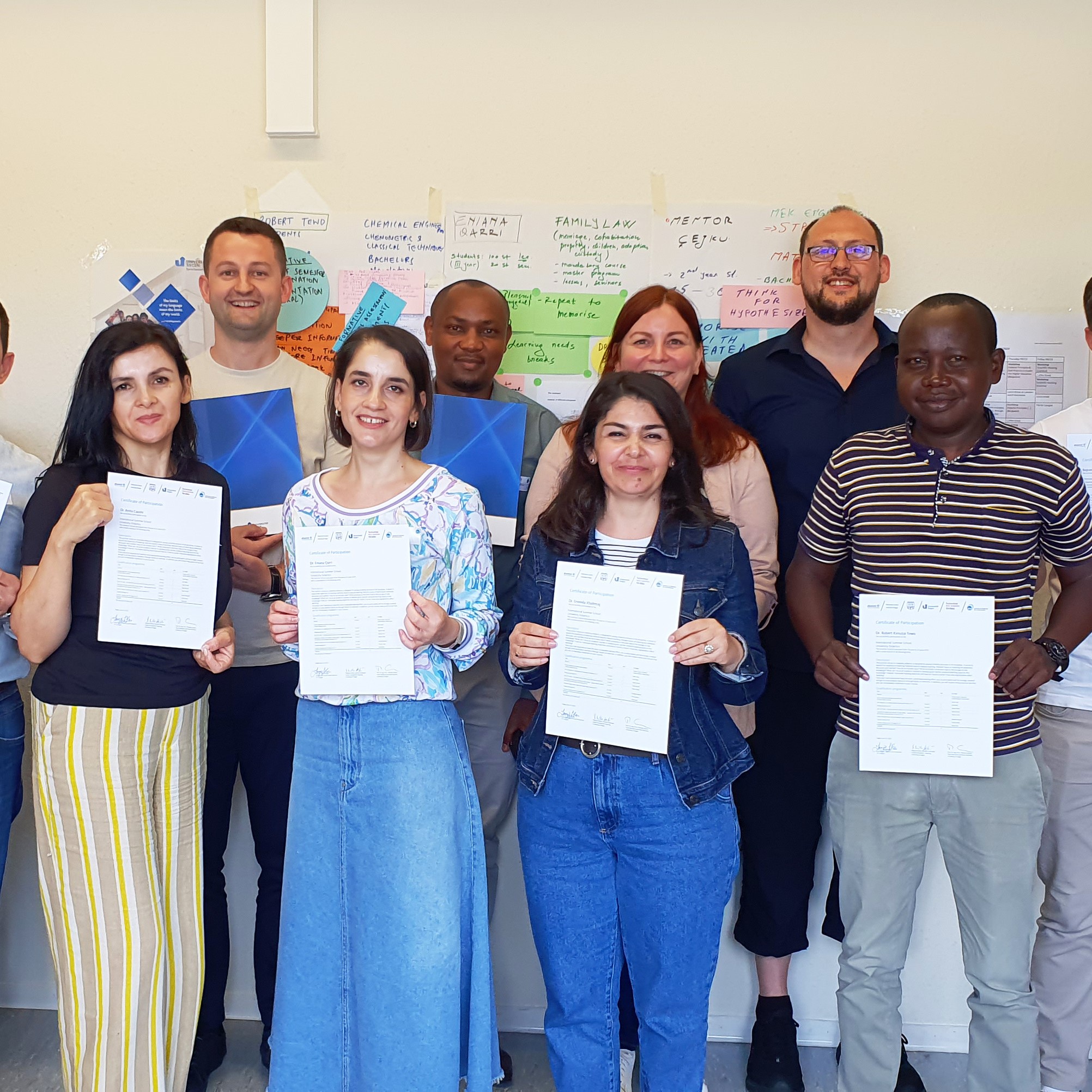 Summer School 2023
Verbesserung der didaktischen Fähigkeiten in einem internationalen Umfeld
Vom 19. Juni bis zum 23. Juni trafen sich internationale junge Dozentinnen und Dozenten aus den unterschiedlichsten Disziplinen an der Universität Siegen, um innovative Strategien für ihre Lehre kennenzulernen. Neben der Reflexion ihrer bisherigen Lehrtätigkeit hatten sie die Möglichkeit, neue Methoden und Strategien auszuprobieren, die über die traditionelle Lehre hinausgingen. Click here to read more.