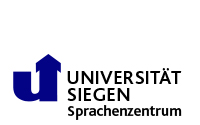 Öffnungszeiten
Geschäftszimmer:
•
Mo-Fr: 08:00 - 12:00 Uhr
Studentisches Service Büro:
•
Mo-Do: 08:30 - 17:00 Uhr
•
Fr: 08:30 - 16:30 Uhr
In den Semesterferien:
• Mo-Fr: 08:30 - 13:30 Uhr
Scheinausgabe (WS-A105)
Bitte machen Sie für die Scheinabholung einen Termin per Mail aus!
Scheine aus dem Sommersemester 2020 werden nur digital ausgeben.
•
Mo-Fr: 08:00 - 12:00 Uhr
Wenn Sie das SESAM nutzen möchten vereinbaren Sie bitte mit uns einen Termin per Mail .
•
Mo-Fr: 12:00 - 16:00 Uhr
Kontakt
Hausanschrift
Sprachenzentrum der
Universität Siegen
Weidenauer Straße 118
57076 Siegen

Tel.: +49 271/740-3002
E-Mail:
sprachenzentrum@spz.uni-siegen.de
Postanschrift
Sprachenzentrum der
Universität Siegen
Postfach
57068 Siegen


Learning languages
Placement test:
If you registered for our German courses for the first time you also have to register for a placement test in Unisono The placement tests take place before the regular courses start.
The placement tests for our English or Spanish courses will take place on the first date of the respective courses. You do not have to sign up for those placements separately.
The language courses are free of charge and are open to each and every member of the University of Siegen. Our course programme can be found on unisono At the beginning of every semester, new participants are required to take a placement test in the following languages: German, English, French, Spanish and Russian. The exact dates of the tests in the current semester will be published on unisono.
Our "German as a foreign language" courses are designed to run alongside students', graduating students' and researchers' courses of study and research.

For further information, please contact: jessica.berger@spz.uni-siegen.de
| | |
| --- | --- |
| | Besides general English courses from levels A2 up to C1 we also offer various English courses for specific purposes. |
| | |
| --- | --- |
| | With beginner courses starting both in winter and summer term, students have the chance to start learning this very popular language anytime. Furthermore we offer advanced courses up to level C1. |
The Language Center offers courses in 12 different foreign languages. Most of the languages are taught for 90 minutes per week (2 SWS) and are credited with 3 ECTS. Depending on your course of study, the ECTS may be counted towards the required credit load.

For further information, please contact: sprachenzentrum@spz.uni-siegen.de
A Language Tandem is a type of autonomous and intercultural exchange which takes place outside the classroom. Two students with different native languages meet regularly and communicate in their respective languages.

For further information, please contact: tandem@spz.uni-siegen.de
Since summer semester 2018 the Language Café provides another opportunity to engange in conversation with native speakers from various countries.

For further information, please contact: tandem@spz.uni-siegen.de
| | |
| --- | --- |
| | You can find useful links and materials for language learning in our link collection. |