Literature, Culture, Media
Short information
Restricted
admission
Regular
study time
Winter
semester
Summer
semester
no
6 semester
✔
Advanced
major
Major
combination
Major
Minor
✔
✔
✔
✔
Admission procedure
No admission required, no application required
Graduation
Bachelor of Arts
More information
Deadlines
The degree program
The degree program permits a literate, culture and media-sciences studies focusing on various language-related cultural regions. The course is set up philology- and subject-comprehensively: It combines German studies, English/American studies and Romance studies in literature and cultural sciences with media-scientific aspects.
Depending on the subject combination program, it is possible to choose one or two linguistic focuses.

The choice of focus language influences the subject-scientific part of the course. Certain module elements permit deeper insights into the literature and cultural history and into current media developments of the respective language region for the chosen focus language. Specialist knowledge and method competences are taught equally in the degree program. Additionally, students acquire or improve their skills in the chosen focus language(s) in practical language exercises on grammar, text production, translation and conversation.
Study structure
The subject bachelor's degree program at the School of Arts and Humanities allows students to combine various major and minor subjects with each other. The following subject combination programs are available: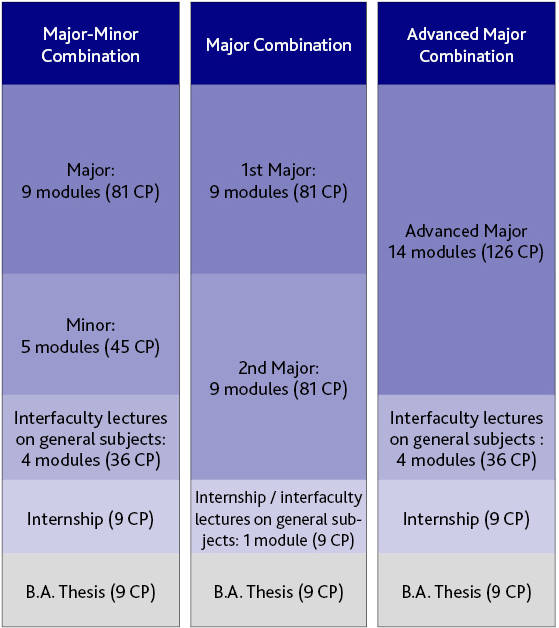 In the major-minor combination, Literature, Culture, Media can be combined with the following minor subjects:
In the subject-oriented subject combination program, combination with the following majors is possible:
Important information
The following foreign language skills are recommended when choosing the respective language. English: Language skills corresponding to a scope of 7-9 years; French: Language skills corresponding to a scope of approx. 5-7 years; Spanish: Language skills recommended but not required.
Professional perspectives
The B.A. degree qualifies for a wide range of activities in the areas of media and communication (e.g. classical media, press and publicity work, publishing houses). It also qualifies for work in (inter-)cultural matters and facilities (e.g. culture and language mediation in adult education, consulting activities, event agencies, elements and principles).
Study organization
Examination regulations/degree plan/module manuals/internship rules

Examination regulations (POs) specify the basic structures of a degree program (e.g. admission requirements and contents to be studied). Students are automatically subject to the current version of their PO when they matriculate for their first subject-related semester. This means that even if the PO changes during their studies, the original version according to which they matriculated will remain valid (provided that the PO does not expire).
The respective degree plan is the recommended example progress of the studies in individual subjects and is part of a PO.
Supplementary provisions and details for any module to be studied can be found in the module manually (e.g. requirements for taking a written test or content-related information on the modules/events, ...).
The internship rules define the conditions under which the required or optional internships must be completed.
We recommend at least looking at the study schedule for your degree program before the lecture time starts, to ensure that you know which modules are intended for the start of your studies.
Master's degree program