Industrial Engineering
Short information
Restricted
admission
Regular
study time
Winter
semester
Summer
semester
no
6 semester
✔
Admission procedure
No admission required, no application required
Graduation
Bachelor of Science
More information
Language of instruction
German
Deadlines
The Degree Program
The aim of the program is to provide general and complementary education in the field of mechanical engineering and economics. In these areas of knowledge, a double qualification should be achieved. In the first two years of study, students should primarily create a sound basis for theoretical and applied knowledge. In the third year of study, students should learn the necessary skills and practical skills that will enable successful interdisciplinary and team-oriented occupational activity in the field of industrial engineering. By choosing a subject from a broader range of disciplines and by choosing a specific field in Business Administration, students can acquire an individual training profile according to their personal interests. .
Study structure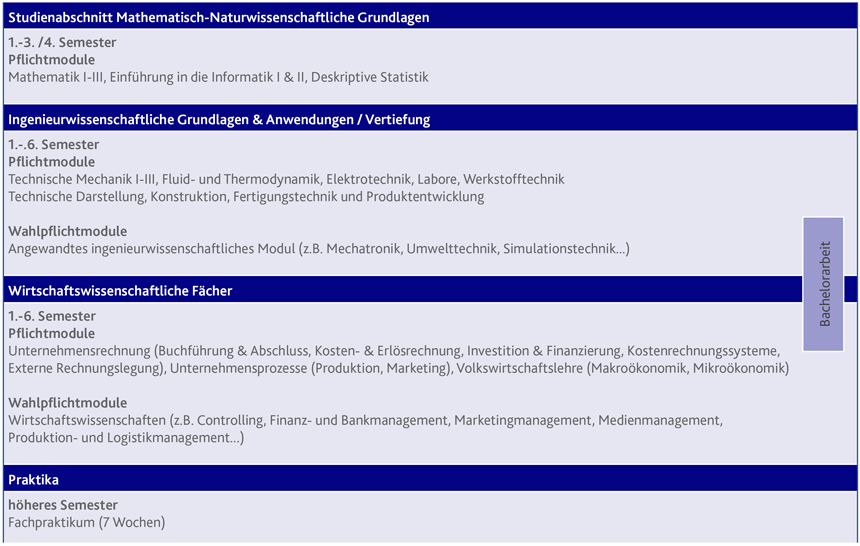 Important informations
Prior to commencement of studies a minimum of eight weeks of basic internship are required: getting to know the materials and their workability; overview of manufacturing equipment and procedures. Recognition is granted in the internship office and must be submitted to the examination office by the end of the 3rd semester, at the latest * During studies at least seven weeks of internship: supplementation and deepening of the knowledge acquired by working in various operational areas and a first training in engineering practice. und
im Studium mindestens sieben Wochen Fachpraktikum: Ergänzen und Vertiefen von im Studium erworbenen Kenntnissen durch Mitarbeit in verschiedenen betrieblichen Bereichen und eine erste Einarbeitung in die Ingenieurpraxis.
Business Perspectives
All in all, the bachelor's program, taking into account the requirements of the professional world, should provide students with the necessary basic knowledge, relevant methods and abilities to such a degree, that they will be able to work independently as industrial engineers in mechanical engineering or other sectors of the economy as well as in scientific fields. At the same time, students are introduced to the current state of knowledge and discovery in this occupational field, in order to be able to continue their studies in a master's program.
Study Organization
Examination regulations / study course plans / module manuals / internship regulations

Examination regulations (POs) determine the basic structures of a degree program (for example, entry requirements and contents to be studied). For freshmen, the current version of a PO automatically applies. This means that even if the PO changes during the course of study, the original version you have registered under applies to you (provided that PO is not expired).
The respective course plan represents the recommended exemplary course of study in the individual subjects and is part of a PO.
Supplementary regulations and detailed information for each module to be studied can be found in the module manuals (for example, requirements for passing a written exam or details of the content of the modules / events, ...).
The internship regulations define the conditions under which compulsory or optional internships must be completed.

Before the start of the lecture period, we recommend that you at least look at the study course plan of your degree program so that you know which modules are planned for the beginning of the study.
Master Degree program