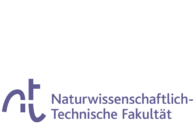 Examination sessions summer term 2023: 17-28 July and 19-29 September
Important Information and deadlines for the summer term 2023
Join our presentations of our English-speaking master's degree programs via Zoom from Monday 6 to Friday 10, March, 2023. Please find detailed information here
Online applications for the winter term 2023/2024 are currently open! Decision letters should be expected in late May 2023. Please check your Unisono account, as email notifications will not be sent.
Nano-Seminar on January 25 at 5 PM. Hairtha Kambalathmana speaks about "Plasmon assisted ultrafast photon emission of silicon vacancy (SiV) color centers in diamond membrane"
Welcome meeting and Q&A for incoming international students on October 5, from 2 to 3:30 PM. Here the Zoom link
We kindly invite you to the annual evaluation meeting of the master degree program Nanoscience and Nanotechnology scheduled for
May 4, 2022 at 4 PM in room H-C 5326. Here also the Zoom link
Campus Step-by-Step for incoming international students. Here the link
New nano mailing list. If interested please subscribe here!
Nano Seminar
Location: Room H-C5326 and on Zoom: https://uni-siegen.zoom.us/j/68892431299?pwd=UzI4MHcwQ1VFUXFmaFR3S3lLeTZFdz09
Schedule: Wednesdays at 17:00
Winter Semester 2022
| | | |
| --- | --- | --- |
| Date | Speaker | Title |
| 19.10.2022 | Dr. Florian Steiner, LMU | Quantum optics meets microscopy: An ultra-sensitive resonator microscope and micro-resonator platform |
| 26.10.2022 | Dr. Volker Strauss, MPI Colloids & Interfaces | The strange story of carbon nanodots – science influenced by wishful thinking  |
| 23.11.2022 | Dr. Yassamina Keriti, Univ. Florence, Italy | Photoluminescence and photocatalytic properties of Er3+-doped In2O3 thin films prepared by sol-gel |
| 18.1.2023 | Nigar Hajiyeva, Univ. Siegen | Time-resolved fluorescence studies of core-shell nanocapsules – Towards investigation of nanocapsule fusion |
| 25.1.2023 | Haritha Kambalathmana, Univ. Siegen | Plasmon assisted ultrafast photon emission of silicon vacancy (SiV) color centers in diamond membrane |
Previous Schedule