Information on your start at university
Dear freshmen,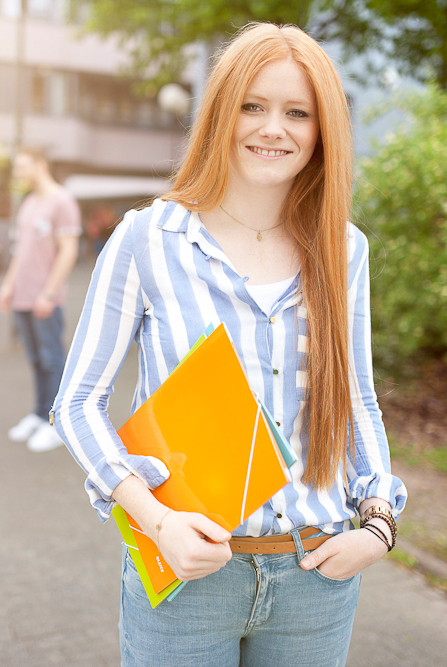 We are pleased to welcome you as new students at the University of Siegen. Starting at university means a new time in your life begins, bringing many changes with it. Surely you have some questions about the practical organization of your degree program: "How do I create my own course schedule?", "What about my finances?", "What is life on campus like?", "What does the city of Siegen have to offer me?"
To make your start easier, we have compiled the most important information on your
start at university on this page.
We wish you a successful and rewarding time of study! - Central Student Advisory Service of the University of Siegen -
Note on modernization measures
Since extensive modernization work is currently in progress at the Adolf-Reichwein-Straße (AR) campus, please refer to the website
for information on the current construction site situation. The other campus locations Hölderlin (H), Paul Bonatz (PB), Unteres Schloss (US) and Emmy-Noether-Campus (ENC) are not affected by these measures.
Student e-mail addresses
Upon enrollment, all students are assigned a University of Siegen e-mail address by the Center for Information and Media Technology. You can activate it yourself via your personal unisono account. To do so, after logging into unisono, click the button "Studentisches Leben" [Student's Corner] in the top navigation bar and then click "ZIMT-Konto" [ZIMT Account] in the left navigation bar. When you click the link provided there, your student e-mail address will be activated automatically.
Information before starting the degree program




Note: The links below will open a PDF document on the page on which the topic section you have clicked begins. This function is not supported by all web browsers. If necessary, you may have to navigate to the desired section within the PDF.



What are the formalities I have to complete at the university?

Looking for a place to live, registering your domicile - or would it be preferable to commute?

How do I get to the university?

How can I finance my studies? What about health insurance?

How do I create my course schedule?

Who can help me? (contacts/advice)

Where can I find what at the university? What do the abbreviations mean?

Campus security

Introductory events for freshmen

Introductory events are held for all first-year students before the start of lectures - the so-called ESE = Erstsemestereinführung.

Information on the ESE in winter semester 2020/21 will be available here from mid-September.

What is the student ESE?

Students in more advanced semesters provide an introduction on university life from a student perspective. The give a guided tour of the campus, give advice on how to create a course schedule, explain the study regulations and shed some light on the jungle of abbreviations. In addition, the student ESE offers an interesting evening program that is intended to help freshmen feel at home in Siegen as quickly as possible. Please also attend the lecturer ESE.

What is the lecturer ESE?

Lecturers welcome the freshmen and provide an introduction on their degree programs. You will receive an introduction to the organization of your studies, information on the sequence of courses, etc. Please also attend the student ESE.
Video tutorial: What is unisono and how does it work?
What is unisono and why is it important for studying at the University of Siegen? How can you register for courses or examinations? Where can you find an overview of performances and certificates?
Our video tutorial provides first insights into the organization platform of the University of Siegen. With the help of the tutorial you can create your course schedule or download documents for your health insurance or the BAföG office.
Or simply browse through the catalog of courses offered at the University of Siegen. Have fun!