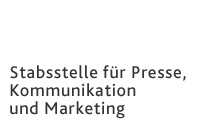 Contact
Executive Department for
Press, Communication and Marketing
Adolf-Reichwein-Straße 2a Gebäude AVZ (Gebäudeteil AR-NA) 57068 Siegen
Phone:&nbsp&nbsp&nbsp +49 (0)271/740-4915 Fax.:&nbsp&nbsp&nbsp +49 (0)271/740-4911 E-Mail:&nbsp&nbsppresse@uni-siegen.de
2020
"Siegen helps students" – You can help, too!


A crowdfunding campaign has been launched for students from the University of Siegen who have got into financial difficulties through no fault of their own due to the Corona pandemic. The University, the Society of Friends and Supporters and the AStA have therefore launched a donation campaign for bridging the gap.




Funding for Collaborative Research Center extended


The Media of Cooperation Collaborative Research Center (CRC) established at the University of Siegen in 2016 will continue its work until at least the end of 2023. The Deutsche Forschungsgemeinschaft (DFG) has greenlighted its further funding.




"A fantastic opportunity for the whole university"


The University of Siegen has won funding from the European Union's Horizon 2020 research and innovation program for a large-scale project aimed at strengthening the mobility and career development of scientists. It gives experienced researchers from around the globe the opportunity to work as visiting fellows in Siegen.




Good positions in the CHE university ranking table


University of Siegen with top ratings in several categories in the latest ranking by the Centrum für Hochschulentwicklung (CHE).




Examining tiny protein droplets with X-ray light


Physicist Prof. Dr. Christian Gutt from the University of Siegen leads German-Swedish project.




gutt_thumb


Physicist Prof. Dr. Christian Gutt from the University of Siegen leads German-Swedish project.




Easier access to artificial intelligence


In the ManuBrain research project, the University of Siegen and its partners are developing an AI platform with low technical hurdles for use by small and medium-sized enterprises. Prof. Dr. Andreas Pinkwart, Minister for Economics and Digitalization of the state of North Rhine-Westphalia (NRW), recently approved the funding.




The myth of the quantum leap debunked


In a joint experiment, physicists at the Universities of Siegen, Seville, and Stockholm have for the first time made visible what exactly happens during a quantum measurement.




Installing cognitive algorithms in small computers


How can limited-capacity devices such as smartphones run highly complex AI algorithms in the future? In the Wiplash project, researchers at the University of Siegen are working on a solution with a new computer architecture.